Hello dear Amigurumi Followers
Today we share Amigurumi Tiny Socks Free Pattern for you. As you know we share new free amigurumi pattern every day. The main crochets are gazelle, amigurumi bear, pola, crochet panda, penguin, giraffe, llama, pig, bunny, clown, lamb, bee, crochet unicorn, amigurumi doll, fox, penguin, dinosaur, crochet elephant, hippo, monkey, crochet cat, crochet dog and more …
Todays daily new amigurumi free crochet pattern is Amigurumi Tiny Socks.
I want to give you some informations about this amigurumi free pattern ; Tiny Socks.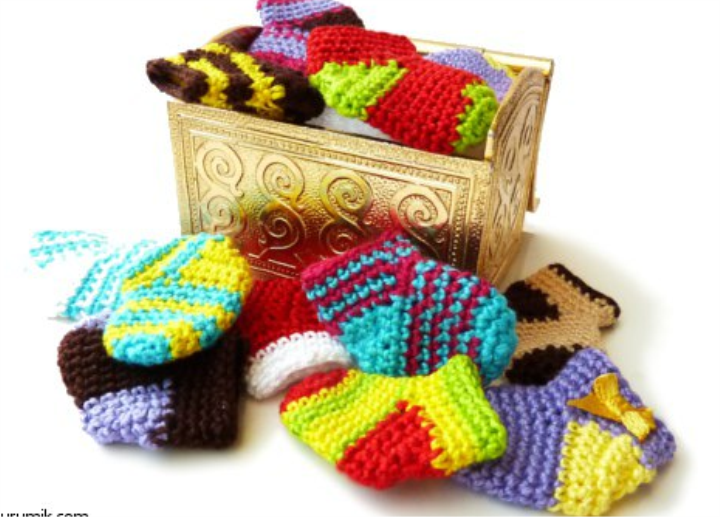 We crochet cute tiny socks for dolls or New Year's souvenirs, key chains, Christmas tree decorations.
Amigurumi Tiny Socks Free Pattern
For work we need:
Iris yarn of different colors, to your taste
hook number 1
needle
scissors
The pattern is very simple.
So, we choose yarn and begin to knit with a sliding knot and a chain of two VP (air loops).
1 row 6 RLS (single crochet) to the second from the VP hook [6]
2 row 6 R (increase) [12]
3 row 1 R, 1 RLS [18]
4 – 10 row 18 RLS [18]
We begin to knit the heel
11 row 13 RLS, we knit 1 PP (lifting loop) and turn the knitting [13]
12 row 13 RLS, from the inside, in the opposite direction, 1 PP, turn the work [13]
13 row 13 RLS, 1 PP, rotation [13]
14 row 13 RLS, 1 PP, turn [13]
15 row 3 RLS, 1 regular Y (decrease), decrease with knitting 3 stitches together, 1 regular Y, 3 RLS, PP, turn [9]
16 row 1 RLS, 1 regular Y, decrease with knitting 3 loops together, 1 ordinary Y, PP, turn [5]
17 row we knit the remaining 5 loops together, we introduce a hook into each of the remaining 5 loops, grab the thread and pull the loop, at the end you should get 6 loops on the hook along with the working one.
We knit all 6 stitches in 1 step. Cut and fasten the thread. [1]
We begin to knit the top of the sock,
18 row. After we finished knitting the heel, we should have got a track that lacks elastic to become a full toe.
We fasten the thread anywhere on the unfinished edge and begin to knit ordinary crochets in a circle.
There should be 17 of them, but it's okay if there are a little more or less of them. [17]
19 – 22 row 17 RLS [17]
At the end, we cut off and fasten the thread, the sock is ready.
You can decorate the sock with a bow, ribbon, beads, sew on a button.
Each sock consists of 4 parts:
from the 1st to the 3rd row – the toe of the sock, where the toes are usually located 🙂
from the 4th to the 10th row – the main part, between the toe and the heel
from 11th to the 1st 17 row – heel
from 18 to 22 – the top of the sock, on ordinary socks it is an elastic band.
Combining the colors and sizes of the strips, you can knit a huge number of bright socks.
Such socks are a wonderful souvenir that will appeal to anyone, especially now, when there is winter in the yard and I want more warmth and bright colors.

More Amigurumi Socks Ideas: