Hello dear Amigurumi Followers
Today we share Amigurumi Plush Ice Cream Keychain Free Pattern for you. As you know we share new free amigurumi pattern every day. The main crochets are gazelle, amigurumi bear, pola, crochet panda, penguin, giraffe, llama, pig, bunny, clown, lamb, bee, crochet unicorn, amigurumi doll, fox, penguin, dinosaur, crochet elephant, hippo, monkey, crochet cat, crochet dog and more …
Todays daily new amigurumi free crochet pattern is Amigurumi Plush Ice Cream Keychain.
I want to give you some informations about this amigurumi free pattern ; Plush Ice Cream Keychain.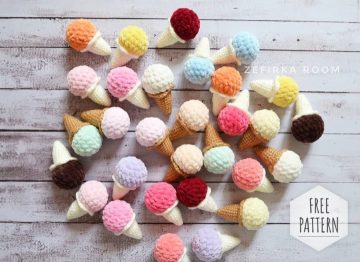 Hook No. 3
Yarn YarnArt BABY Yarn (Color 316 or 502).
Hook number 2
Filler (hollofayber)
needle for stitching, scissors
When using these materials, the size of the finished toys 6 cm.
Bon knitting and light eyelets 😉
Symbols
SC – ring amigurumi
VI – air loop
sc – column without nakida
PRIB – growth (provyazat 2 sc in one loop)
UB – ubavka (2 provyazat sc together at front floor loops)
CCH – column with nakida
SS – a connecting bar * () – number of times to repeat the above
Amigurumi Plush Ice Cream Keychain Free Pattern
BALL CREAM
1. 6 sc in spacecraft (6)
2. Arr * 6 (12)
3 . (1 sbn, surf) * 6 (18)
4-5. 18 sat (2 rows)
Fill as knitting.
6. (1 Ub, ub) * 6 (12)
7. ub * 6
Hole pull off. Fasten and cut the thread, we hide the tail.
HORN
1. 4 sbn in spacecraft (4)
2. prib * 4 (8)
3. 8 sbn (8)
4. (1 sbn, prib) * 4 (12)
5. 12 sbn (12)
6. (2 sbn , surf) * 4 (16)
7-8. 16 sat (2 rows)
9. (3 sat, surf) * 4 (20)
10-11. 20 sat (2 rows)
12. 1 rung, (skip 1 loop, 4 csn to the next loop, skip 1 loop, 1sbn) * 5, cc
Finish, leave the thread for sewing. A little fill with filler.
Sew horn to the ball.
Ice cream is ready!

More Amigurumi Keychain Ideas: