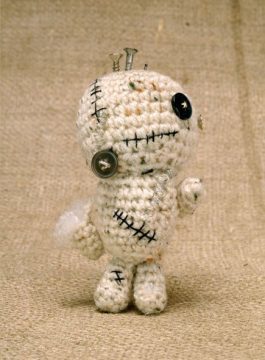 No one knows what kind of accident this little crocheted bot has been in, but it was clearly a bad one. Someone has patched him up, rather roughly, but he still needs a lot of care to nurse him back to health. When you do, he'll be your friend for life.

Adapted from "Crobots" by Nelly Pailloux, published by Andrews McMeel. Images by Andrew Perris.

YOU WILL NEED
• crochet hook, size C2 (2.75 mm)
• stitch marker or paper clip
• 1 yarn needle
• 1 embroidery needle
• fiberfill to stuff the bot
• textured beige yarn (DK) or light worsted (#3)
• black embroidery floss (2 strands)
• beige embroidery floss (1 strand)
• 3 medium-sized screws, 3⁄4 inch (15 mm) long
• 1 small nail
• 2 small gray shirt buttons
• 2 small springs (dismantle 2 retractable ballpoint pens to obtain these)

PATTERN STITCHES
• single crochet

ABBREVIATIONS: ch = chain st = stitch sl st = slip stitch sc = single crochet hdc = half-double crochet sc dec = single crochet decrease (decrease over 2 stitches) blo = back loops only * = repeat instructions between asterisks
Step 1
To make the head, using spotty beige yarn:

Round 1 Start 6 sc in a magic ring (6)
Round 2 2 sc in each sc around (12)
Round 3 2 sc in next sc, sc in next sc repeat 6 times (18)
Round 4 2 sc in next sc, sc in next 2 sc repeat 6 times (24)
Round 5 2 sc in next sc, sc in next 3 sc repeat 6 times (30)
Rounds 6 to 10 sc in each sc around (30)
Round 11 * sc dec, sc in next 3 sc* repeat 6 times (24)
Round 12 * sc dec, sc in next 2 sc* repeat 6 times (18)
Round 13 * sc in next sc, sc dec* repeat 6 times (12)
Stuff firmly sl st in next sc and tie off, leave long tail to attach to body
Step 2
To make the body, using spotty beige yarn:

Round 1 Start 6 sc in a magic ring (6)
Round 2 2 sc in each sc around (12)
Round 3 2 sc in next sc, 1 sc in next sc repeat 6 times (18)
Round 4 in blo, sc in each sc around (18)
Rounds 5 to 11 sc in each sc around (18)
Stuff firmly
sl st in next sc and tie off, weave in the end yarn
Step 3
To make the arms, using spotty beige yarn:

Round 1 Start 4 sc in a magic ring (4)
Round 2 2 sc in next sc, sc in next sc repeat twice (6)
Rounds 3 to 5 sc in each sc around (6)
sl st in next sc and tie off, leave long tail to sew
to body
Stuff lightly
Make 2
Step 4
To make the legs, using spotty beige yarn:

Round 1 Start 6 sc in a magic ring (6)
Round 2 2 sc in next sc, sc in next 2 sc repeat twice (8)
Round 3 in blo, sc dec, sc in next 2 sc repeat twice (6)
Rounds 4 to 6 sc in each sc around (6)
sl st in next sc and tie off, leave long tail to sew to body
Stuff firmly
Make 2
Step 5
TO ASSEMBLE ZOMBIEBOT
 
• Stuff the head firmly, thread an embroidery needle with two strands of black floss, and embroider two scars on Zombiebot's face. Use the photograph as a guide to place them, and make each from one long straight stitch with plenty of tiny straight stitches crossing it at right angles. Using one strand of beige floss, attach the left eye to the head.
 
• To make the damaged right eye, take one of the pen springs and sew one end of it to the face, using the beige floss. Attach the other end of the spring low on the face, then add a button at the lower end with several stitches, so that the eye appears to be dangling loosely on the cheek.
 
• Stuff the body firmly and embroider it with a scar in black floss, using the same process as the face scars. Attach the second spring across the upper left torso, stitching it on at each end with beige thread.
 
• Attach Zombiebot's head to his body using the leftover tail of yarn.
 
• Stuff the arms. Attach the left arm to the body by its tail of yarn. For the hanging right arm, leave the top open with some stuffing protruding, and attach it on a length of yarn about one-half inch long, leaving it hanging loosely against Zombiebot's side.
 
• Stuff the legs. Embroider a tiny scar on the right leg, and attach both legs to the body with the tails of yarn left over from crocheting.
 
• Using the photograph as a reference, gently press the screws and the nail into position on Zombiebot's head.
More Amigurumi Zombie Ideas: