Hello dear Amigurumi Followers
Today we share Amigurumi Swimming Frog Free Pattern for you. As you know we share new free amigurumi pattern every day. The main crochets are gazelle, amigurumi bear, pola, crochet panda, penguin, giraffe, llama, pig, bunny, clown, lamb, bee, crochet unicorn, amigurumi doll, fox, penguin, dinosaur, crochet elephant, hippo, monkey, crochet cat, crochet dog and more …
Todays daily new amigurumi free crochet pattern is Amigurumi Swimming Frog.
I want to give you some informations about this amigurumi free pattern ; Swimming Frog.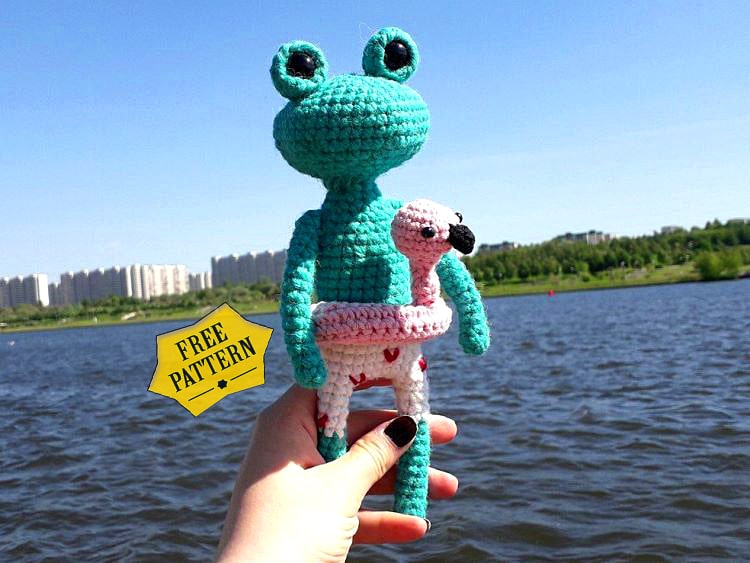 Materials
• Green, white and red yarn (cotton, acrylic or wool)
• H hook
• Two beads
• Tapestry needle
• Optional: stitch markers
Abbreviations
Rnd – round / row
ch – chain
sc – single crochet
inc – increase (2 sc in one stitch)
dec – decrease (2 sc together)
(…) – number of stitches you should have at the end of the row
(…) x 6 – repeat whatever is between the brackets the given number of times
Amigurumi Swimming Frog Free Pattern:
Legs
(To put the filler in the process of crochet)
Make magic circle, or ch 3 and sl st to 1st ch to form ring.
Rnd 1: Ch 1, 6 sc into ring
Rnd 2-10: 6 sc
Change the color of the yarn
Rnd 11-15: 6 sc On the first leg of thread to secure and trim.
On the second leg do ch 12 and attach the other leg.
The thread is not cut. Crochet a torso.
Body
Rnd 16: 24 sca
Rnd 17-21: 24 sc
*now the red yarn to embroider the pattern on white*
Change the color of the yarn
Rnd 22-31: 24 sc
Rnd 32: 2 sc, 1 dec (12)
Rnd 33: 12 sc
Rnd 34: 1 sc, 1 dec (6)
Rnd 35-36: 6 sc
Head
Make magic circle, or ch 3 and sl st to 1st ch to form ring.
Rnd 1: Ch 1, 6 sc into ring (6)
Rnd 2: 6 np (12)
Rnd 3: (inc, 1 sc) x 6 (18)
Rnd 4: (inc, 2 sc) < 6 (24)
Rnd 5: (inc, 3 sc) < 6 (30)
Rnd 6: (inc, 4 sc) < 6 (36)
Rnd 7: (inc, 5 sc) < 6 (42)
Rnd 8-10: 42 sc
Rnd 11: 5 sc, 1 dec (36)
Rnd 12: 4 sc, 1 dec (30)
Rnd 13: 3 sc, 1 dec (24)
Rnd 14: 2 sc, 1 dec (18)
Rnd 15: 1 sc, 1 dec (12)
Rnd 16: 6 dec (6)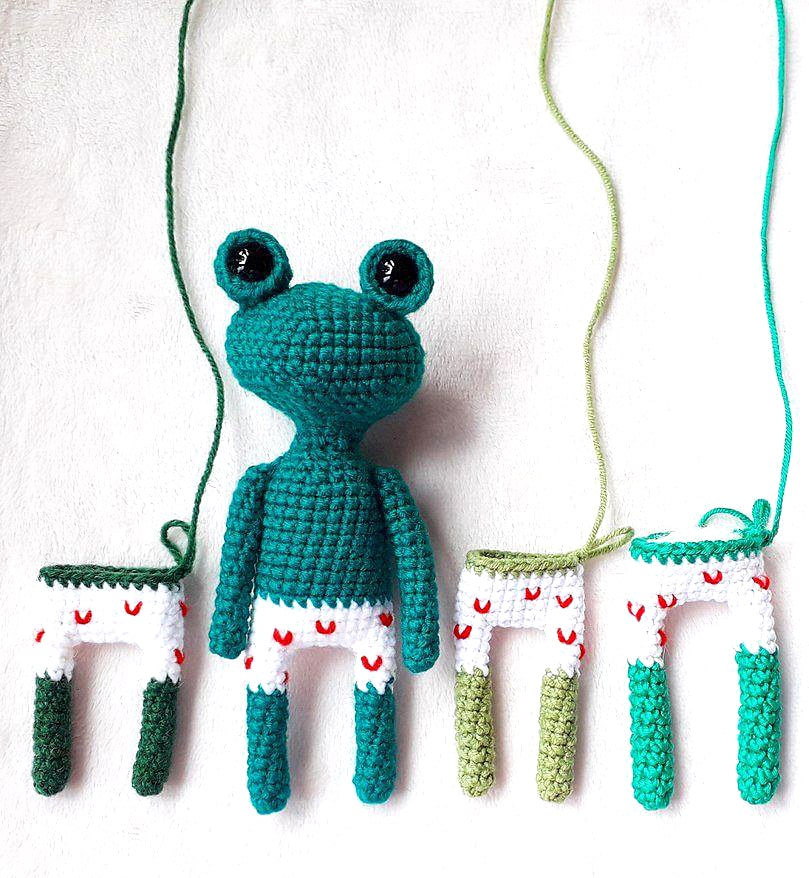 Arms
Rnd 1: 6 Ch 1, 6 sc into ring
Rnd 2-15: 6 sc
Eyes
Rnd 1: 6 Ch 1, 6 sc into ring
Rnd 2: 6 inc (12)
Rnd 3-5: 12 sc
Attach bead and secure.
All details sew this.

More Amigurumi Frog Ideas: