Hello dear Amigurumi Followers
Today we share Amigurumi Sweet Christmas Pigs Free Pattern for you. As you know we share new free amigurumi pattern every day. The main crochets are gazelle, amigurumi bear, pola, crochet panda, penguin, giraffe, llama, pig, bunny, clown, lamb, bee, crochet unicorn, amigurumi doll, fox, penguin, dinosaur, crochet elephant, hippo, monkey, crochet cat, crochet dog and more …
Todays daily new amigurumi free crochet pattern is Amigurumi Sweet Christmas Pigs.
I want to give you some informations about this amigurumi free pattern ; Sweet Christmas Pigs.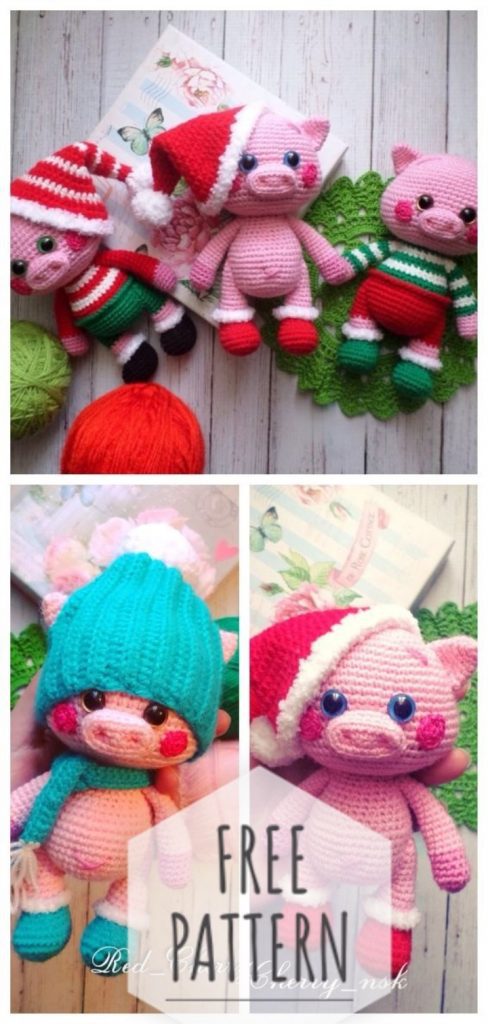 MATERIALS:
Pekhorka Children's Novelty yarn (pink, green and red)
Pekhorka Beaded (white)
hook number 1,2
scissors for cutting the thread,
needle, sewing
pins for pinning parts,
filler.
LEGEND.
KA – amigurumi ring
VP – air loop
SCN – single crochet column
PRIV – increase
UB – decrease
STD – rear half loop. we knit a pink yarn

Amigurumi Sweet Christmas Pigs Free Pattern
Head
1. 6 sc in squadron
2. 6 gadget (12)
3. (1 sc, gadget) * 6 (18)
4. (2 sc, gadget) * 6 (24)
5. (3 sc ) * 6 (30)
6. (4 Sc, PIB) * 6 (36)
7. (5 Sc, Prib) * 6 (42)
8. (6 Sc, BAR) * 6 (48)
9. (15 Sc, BAR) * 3 (51)
10. 51 Sc (51)
11. (16 Sc, BAR) * 3 (54)
12-15. 54 sc (54)
16. 12 sc, 3 PIB, 24 sc, 3 PUB, 12 sc (60)
17-21. 60 sc (60)
22. 12 sc, 3 CB, 24 sc, 3 CB, 12 sc (54)
23. 10 sc, 3 CB, 21 sc, 3 CB, 11 sc (48)
24. (4 sc, CB ) * 8 (40)
25. (3 SBN, UB) * 8 (32)
begin to fill the head
26. (2 SBN, UB) * 8 (24)
27. (2SBN, UB) * 6 (18)
cut the thread hiding the tip

STAGE 2.
BODY
1. 6 sc in
squadron 2. 6 BRA (12)
3. (1 sc, BAR) * 6 (18)
4. (2 sc, BAR) * 6 (24)
5. (3 sc , ARM) * 6 (30)
6. (4 sc, ARM) * 6 (36)
7. (5 sc, crib) * 6 (42)
8-13. 42 sc (42)
14. 8 sc (ub, 3 scn) * 5, ub, 7 scn (36)
15. 36 sc (36)
16. 8 sc (ub, 2 scn) * 5, ub, 6 sc (( 30)
17. 30 SCN (30)
18. (UB, 3 SCN) * 6 (24)
19. 24 SCN (24)
20. (UB, 2 ScN) * 6 (18)
21. 18 ScN
leave the thread for sewing , we cut
for those who knit a pig in clothes:
we start with a yarn of any other color (for example, green)
1. 6 sc in
squadron 2. 6 BGM (12)
3. (1 BCH, gadget) * 6 (18)
4. ( 2 Sc, BAR) * 6 (24)
5. (3 Sc, BAR) * 6 (30)
6. (4 Sc, BAR) * 6 (36)
7. (5 Sc, BAR) * 6 (42)
8 -12. 42 sc (42)
change the yarn to white and knit in the back half loop.
13. 42 SBN (42)
We do not cut the green thread, we will tie up the pants for the front half
loops, knit it with green yarn for the front half loops, cut the thread and hide it.
continue white
14. 8 sc (UB, 3 sc) * 5, UB, 7 sc (36)
change to red yarn (knit strips)
15. 36 sc (36)
16. 8 sc (UB, 2 sc) * 5, UB, 6 RLS (30)
change for white yarn
17. 30 RLS (30)
18. (UB, 3 RLS) * 6 (24)
change for red yarn
19. 24 RN (24)
20. (UB, 2 RN) * 6 (18)
change to white yarn
21. 18 sc
leave the thread for sewing the torso to the head, cut off
STAGE 3. LEGS
We start to knit boots
1. chain of 5 VP, 2 from the hook: 1 Prib, 2 Sc, 3 Sk in one loop, 3 Sc (10)
2. 2 Prib, 2 Sc, 3 Prib, 2 Sc, 1 Prib (16 )
3. (1 SCN, 1 ARB) * 2, 2 SCN, (1 ARB, 1 SCN) * 3, 3 SCN, 1 ARB (22)
4. (1 SCN, 1 ARB) * 2, 6 SCN, ( 1 ARR, 1 RMS) * 3, 5 RLS, 1 ARRIVAL (28)
5-6. 28 sc (28)
7. 12 sc (1 UB, 1 sc) * 4, 4 sc (24)
8. 10 sc, 6 ub, 2 sc (18)
9. 10 sc, 1 ub, 1 sc, 1 UB, 3 SBN (16)
10. 16 SBN (16) we
cut the thread, hide the tip (the shoe is ready)
go to knitting the legs
We knit for the back half of the yarn in the color of pants
11-14. 16СБН (16)
we return to the remaining front half-loop, we tie it with white yarn. thread cut, hide the tip.
We continue to knit the leg
15. (2 SBN, 1 UB) * 4 (12)
16-21. 12 sc (12)
22. (1 sc, 1 ub) * 4 (8)
leave the thread to be sewn, cut
STEP 4. PEN
If you knit a uniform pig, then all rows are knitted with pink yarn.
we begin in pink (the beginning of the handles)
1. 6 sc in the spacecraft (6)
2. 6 ARM (12)
3. (5 sc, 1 ARM) * 2 (14)
4-5. 14 sc (14)
6. 1 UB, 12 sc (13)
7-8. 13 sc (13)
9. 1 UB, 11 sc (12)
for those who knit a piglet in clothes, at this stage we cut the pink thread and start to match the color of your blouse – we knit the sleeves (behind the back wall of the loop)
10. 12 SBN (12)
we attach the white yarn and we knit it by the front walls of the loop. cut off the white thread, hide the tip.
continue the yarn color sleeves
11. 12 SBN (12)
12. 1 UB, 10 SBN (11)
13-14. 11 sc (11)
15. 1 UB, 9 sc (10)
16-17. 10 sc (10)
we stuff the handle
18. 1 UB, 8 sc (9)
19-20. 9 sc (9)
21 (1 sc, UB) * 3 (6)
leave the thread for sewing, crop
STEP 5.
EARS
1. 6 sc in spacecraft
2. PRIB 6 (12)
3 12 sc (12)
4. (3 sc, gadget) * 3 (15)
5. 15 sc (15)
6. (4 sc, gadget) * 3 (18)
leave the thread to be sewn, cut the
CLIPS
1. 6 sc to the KA
2. 6 BDT (12)
leave the thread to sew, cut the
PINT
1. dial a chain of 6 VP, from the second from the hook: 3СБН in one loop, 3 СБН, 3 СБН in one loop, 3 СБН (12)
2. 3 PRIB, 3 СБН, 3 PRIB, 3 СБН, СС (18)
then we knit for rear half loops
3. 18 ACC
NOW AGAIN knitting BOTH THE WALLS OF THE BOOM
4. 18 ScN
leave the thread for sewing, trim a
piglet, decorate it to your taste and delight yourself and loved ones)