Hello dear Amigurumi Followers
Today we share Amigurumi Small Keychain Bunny Free Pattern for you. As you know we share new free amigurumi pattern every day. The main crochets are gazelle, amigurumi bear, pola, crochet panda, penguin, giraffe, llama, pig, bunny, clown, lamb, bee, crochet unicorn, amigurumi doll, fox, penguin, dinosaur, crochet elephant, hippo, monkey, crochet cat, crochet dog and more …
Todays daily new amigurumi free crochet pattern is Amigurumi Small Keychain Bunny.
I want to give you some informations about this amigurumi free pattern ; Small Keychain Bunny.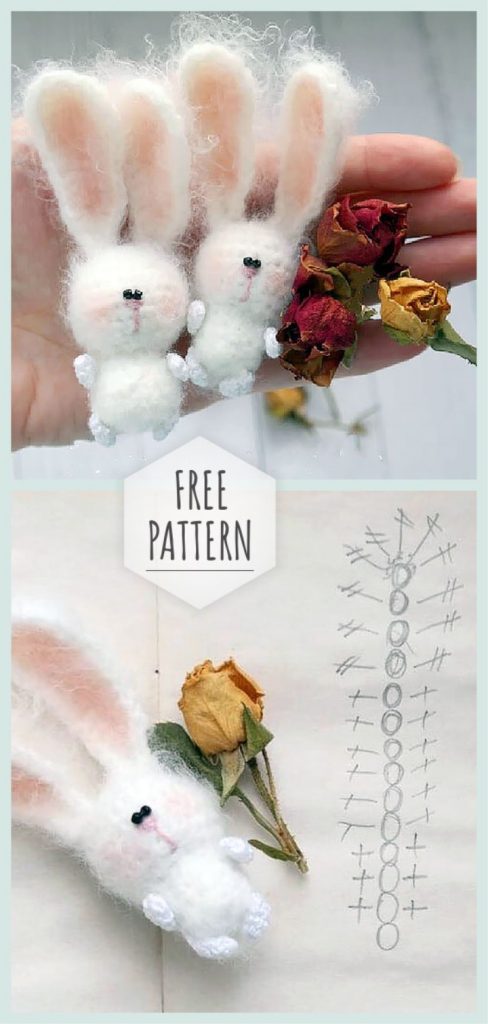 Bunnies
The author of MK-is invisible. 

Amigurumi Small Keychain Bunny Free Pattern
Head and Torso 

1.6 in the ring of Amaguumi 
2.6 increments (12) 
3.1 SBN, 1 Prib * 6 (18) 
4.2 SBN, 1 Prib * 6 (24) 
5-6 24 
7.2 SBN, 1 UB * 6 (18) 
8.1 SBN, 1 UB * 6 (12) 
9. The 12th 
10.1 SBN, 1 Prib * 6 (18) 
11.18 SBN 
12.1 SBN, 1 UB * 6 (12) 
13.6 UB (6) 

Stuffing as knitting. Leave a long thread, bind the hole and bring the thread to the place where will be our tail. I knit the tail last so that everything turns out symmetrically. 
Knit ears (diagram on the second photo): We recruit 14 VP, starting from the second loop knitting 3 SBN, 6 PRSs, 3 St with two scale, in the last loop we do at once 5 columns with two capes. Then knit in a circle of 3 St with 2 scum, 6 PRSs, 3SBN. Leave the thread for stitching.
Legs: 6 in the ring. Then knit two rows of 6SBN. Fold twice, (thread from the center of the yarn legs), and put together 2 SBN. Leave the thread to be nailed.
The ears and legs are pressed.
Then knit a tail, look to the thread was centered, make a loop through the adjacent column so that the tail was centered. We make two VP, in the first 1 PRSs, 1ss. With the help of a needle fasten.
We decorate the face: embroider the spout, I make eyes of ordinary beads. Toning ears and cheeks with blush or dry pastel.