Hello dear Amigurumi Followers
Today we share one free amigurumi crochet pattern again for you. As you know we share new amigurumi free patterns every day. The main crochets are amigurumi gazelles, amigurumi bears, amigurumi pola, amigurumi pandas, amigurumi penguins, amigurumi giraffes, amigurumi llama, amigurumi pigs, amigurumi bunny, amigurumi clowns, amigurumi lambs, amigurumi bees, amigurumi unicorns, amigurumi dolls, amigurumi foxes, amigurumi penguins, amigurumi dinosaurs, amigurumi elephants, amigurumi hippos, amigurumi monkeys, amigurumi cats, amigurumi dogs and more …
Todays daily new amigurumi free crochet pattern is Amigurumi Small Giraffe.
I want to give you some informations about this pattern ;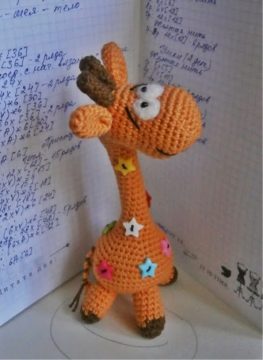 We will need: favorite strings and hook. I will knit with threads "Jeans" of orange color and slightly brown for hoofs and horns. Hook 2,5 mm. I will fill the holofayberom.Dlya neck, I use wire (you can without it, just tightly fill the neck) 13-15sm.For peephole wool for felting white color and 2 small beads. For spots 10-13 pugovichek I will be asterisks). 
The growth will be centimeters 17. 
Legend: 
x-column without crochet 
V-increase 
A-reduction 
(…) *? – allocated in parentheses to perform so many times 
[…] – the number of columns in a row
Head and neck 
1p.6x [6] 
2p.6v [12] 
3p. (Xv) * 6 [18] 
4p. (2xV) * 6 [24] 
5p. (3xV) * 6 [30] 
6p. (4xV) * 6 [36] 
7-8p.36x [36] -2 rows 
9p. 24x, connect with the beginning of knitting, you get 2 halves of 12x and 24x
10-11p.24x [24] -2pages 
12p. (3xV) * 6 [30] 
13p. (4xV) * 6 [36] 
14-15p.36x [36] 
16p. (4xA) * 6 [30] 
17p. (3xA) * 6 [24] 
18p. (2xA) * 6 [18]
To sweep the head 
19p. (XA) * 6 [12] 
20p.6A [6]
The red dotted the beginning of the knitting of the neck. Attach the thread to half of the 12x 
1- 14p.12x [12] -15 rows 
15p. (3xV) * 3 [15]
Fill the neck with a little stuff. If you do without a wire, tighten it tightly. 
16p.15x [15] 
17p. (4xV) * 3 [18] 
18p.18x [18] 
19p. (2xV) * 6 [24] 
20p. (3xV) * 6 [30] 
21p. (4xV) * 6 [ 36] 
22p. (5xV) * 6 [42] 
23p. (6xV) * 6 [48] 
24-28p.48x [48] -5days 
29p. (6xA) * 6 [42]
30p. (5xA) * 6 [36] 
31p. (4xA) * 6 [24]
Insert wire. I have 15 cm. Here is the wire inside the toy.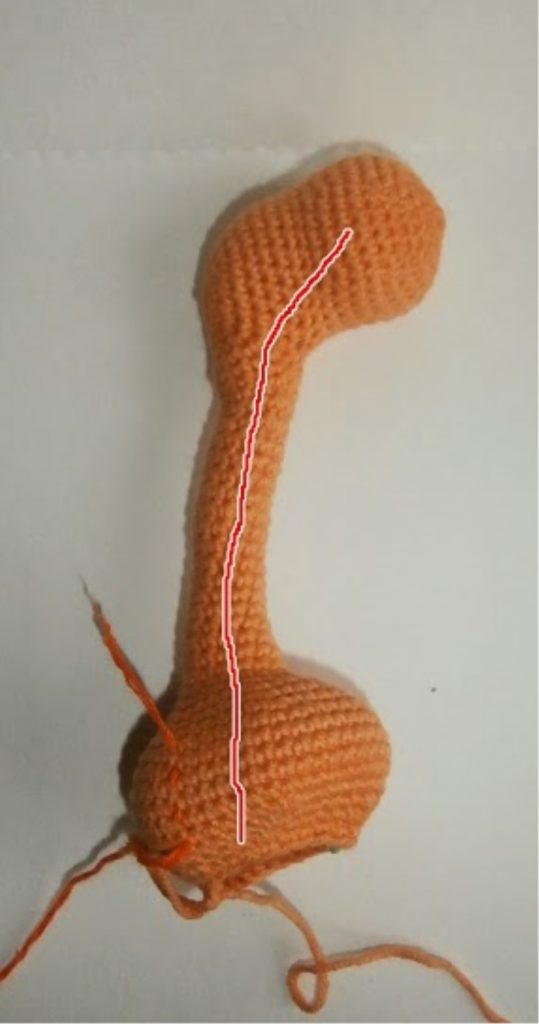 The advantage of the wire in the toy: you can change the turn and tilt of the head, change the bend of the neck and etc. We bend to tilt the head and make a loop at the base of the neck.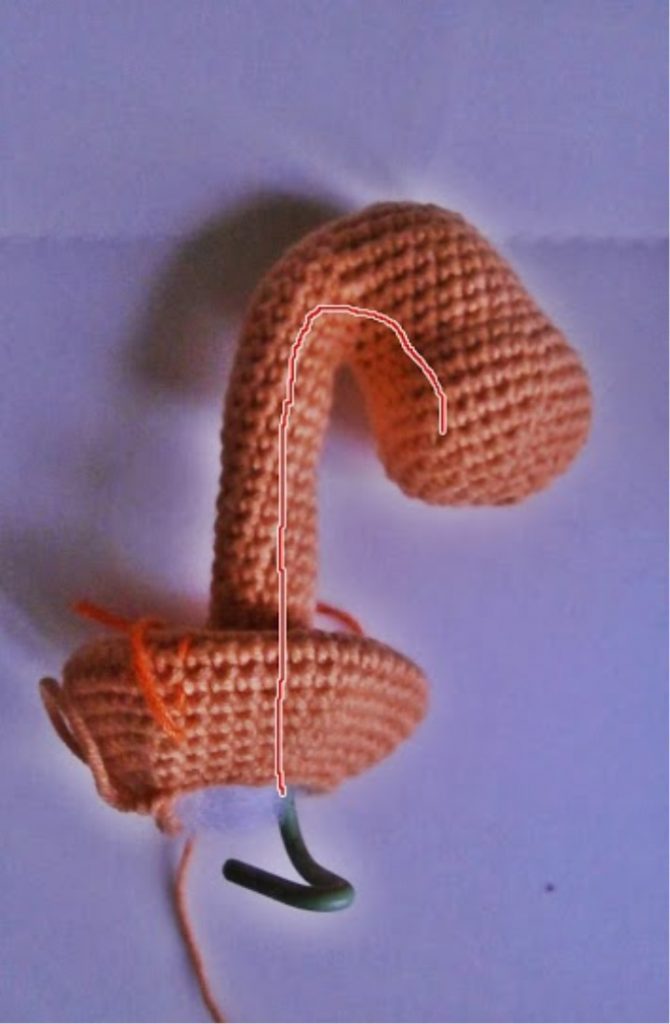 This is how the wire looks inside the toy after all the bends. 
In the process of knitting, fill the torso. 
32p. (3xA) * 6 [18] 
33p. (2xA) * 6 [12] 
34p. (XA) * 6 [6] 
35p.6A As a result, I get here such a swan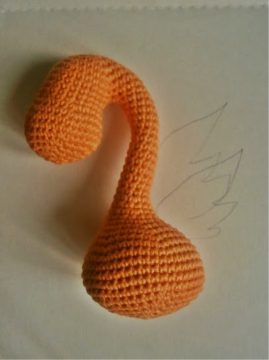 Feet (4pcs) 
1p.6x [6 ] -brown or black thread 
2p.6V [12] 
3p.12x [12] 
4-8p.12x [12] -6 rows (main color thread)
We leave the tip of the thread 15cm, then use them for the tail. The feet are tightly filled. The 

ears (2pcs) the main color thread is 
1p.5x [5] 
2p.5V [10] 
3-8p.10x [10] -6 rows of 

horns (2pcs) brown- black thread 
1p.5x [5] 
2-7p.5x [5] -6 rows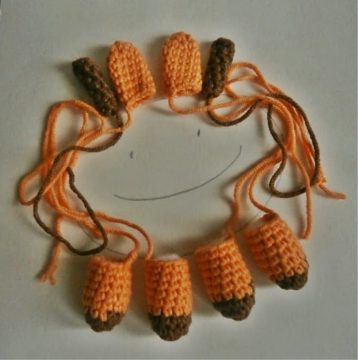 Let's proceed to assembly-design! 
We sew the legs to the bottom of the trunk, but do not cut the strings, but bring them to the designated place for the tail. The ears are folded in half and join the edges.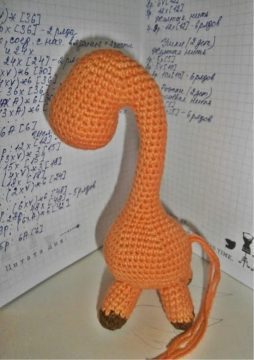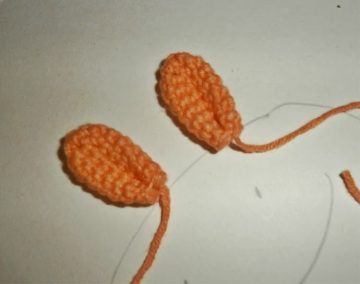 We try and sew ears and horns on the head of the giraffe.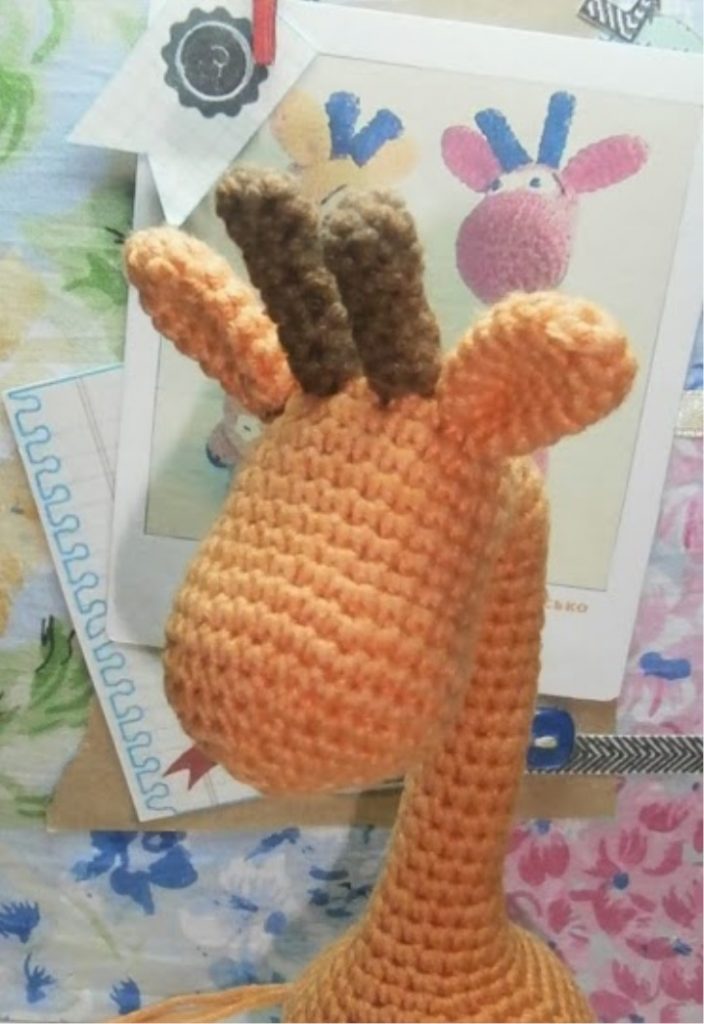 The tips of the threads from the horns I also do not throw out, but tie them to the tail We twist the tail of the pigtail.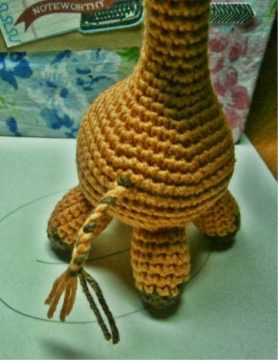 I look at my eyes and sew up the pupils. You can cut out the protein for the peephole from the felt or tie it to you, which is more convenient and accessible. We embroider a smile and crooks.