Hello dear Amigurumi Followers
Today we share Amigurumi Small Dog in a Sweater Free Pattern for you. As you know we share new free amigurumi pattern every day. The main crochets are gazelle, amigurumi bear, pola, crochet panda, penguin, giraffe, llama, pig, bunny, clown, lamb, bee, crochet unicorn, amigurumi doll, fox, penguin, dinosaur, crochet elephant, hippo, monkey, crochet cat, crochet dog and more …
Todays daily new amigurumi free crochet pattern is Amigurumi Small Dog in a Sweater.
I want to give you some informations about this amigurumi free pattern ; Small Dog in a Sweater.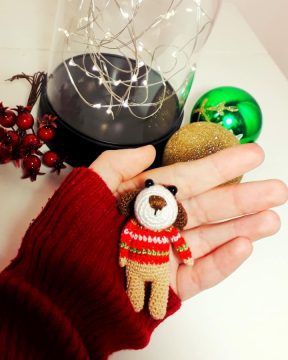 Designations:
Sb-column without nakida.
W-back
P-increase

Materials: yarn "Iris" 3 colors, yarn "Rose", beads, filler.
Amigurumi Small Dog in a Sweater Free Pattern
Legs
1.6 sbn in the ring of amigurumi
2. (n, sbn) * 3 (9)
3-9.sbn
Body
1-5.sbn (24)
(Red yarn)
6-7.sbn (24)
(Green yarn)
8. sbn (24)
(red yarn)
9.sbn (24)
10. (y, 6sbn) * 3 (21)
(white yarn)
11.sbn (21)
(red yarn)
12. (y, 5sbn) * 3 ( 18)
13.sbn (18)
(Green yarn)
14. (y, 4sbn) * 3 (15)
(Red yarn)
15.sbn (15)
Handles
1.6 sbn in amigurumi ring .
2-3.sbn (6)
(Red yarn)
4-5.sbn (6)
(Green yarn)
6.sbn (6)
(Red yarn)
7-8.sbn (6)
(White yarn)
9.sbn (6)
(Red yarn)
10.sbn (6)

Head
1.6sbn in ring (6)
2.6 p (12)
3. (p, sbn) * 6 (18)
4. (p, 2sbn) * 6 (24)
5-9.sbn (24)
(beige yarn)
10. (y, 6sbn) * 3 (18)
11-12.sbn (18)
13. (y, 5sbn) * 3 (15)
14.sbn (15)
16. (y, 4sbn) * 3 (12)
17.6 y (6)
Ears
1.6sbn in ring (6)
2.6 p (12)
3. (n, sbn) * 6 (18)
4-5.sbn (18)
6. (y, 4 sbn) * 3 (15)
7.sbn (15)
8. (y, 3sbn) * 3 (12)
Tail
1.6sbn in a ring (6)
2-3.sbn (6)

More Amigurumi Dog Ideas: