Hello dear Amigurumi Followers
Today we share Amigurumi Rainbow Doll Free Pattern for you. As you know we share new free amigurumi pattern every day. The main crochets are gazelle, amigurumi bear, pola, crochet panda, penguin, giraffe, llama, pig, bunny, clown, lamb, bee, crochet unicorn, amigurumi doll, fox, penguin, dinosaur, crochet elephant, hippo, monkey, crochet cat, crochet dog and more …
Todays daily new amigurumi free crochet pattern is Amigurumi Rainbow Doll.
I want to give you some informations about this amigurumi free pattern ; Rainbow Doll.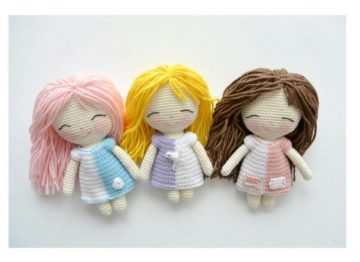 Legend:
KA-ring amigurumi,
w / vpp – air loop / in lifting
sbn – a column without a crochet,
a surplus – an increase,
a decrease – a decrease
prop.X – skip the previous number of loops
In the description there are links to the photo. You can see them in the original description.

Amigurumi Rainbow Doll Free Pattern
HEAD:
1 row – 12 in
2 rows – 1 hook to the 2nd loop from the hook, 9 sb, 3 sb to the last loop, on the other side, 9 sb, 1 sb to the first
loop = 24
3 rows – 2 prib, 9 sb, 3 prib, 9 sb, 1 prib = 30 (photo 1)
4 rows – (1 sb, 1 prib) * 2, 9 sb, (1 sb, 1 prib) * 3, 10 sb, 1 prib = 36
5 row – (2 sb, 1 prib) * 2, 9 сбн, (2 сбн, 1 приб) * 3, 11 сбн, 1 приб = 42
6th row – (3 sb, 1 prib) * 2, 9 sb, (3 sb, 1 prib) * 3, 12 sb, 1 prib = 48
7th row – 48 sb
8 row – 4 sb, 1 prib, 23 sb, 1 prib, 19 sbn = 50
9th row – 50 cd
10 series – 5 sb, 1 prib, 24 sb, 1 prib, 19 sb = 52
11th row – 52 cd
12th row – 6 sb, 1 prib, 25 sb, 1 prib, 19 sbn = 54 (photo 2)
13 – 17 rows / 5 rows / – 54 sb
18 series – 6 sbn, 1 ub, 25 sb, 1 ub, 19 sb = 52
19 series – 52 sbn
20 series – 6 sbn, 1 ub, 24 sb, 1 ub, 18 sbn = 50
21 row – 50 row
22 series – 6 sbn, 1 ub, 23 sb, 1 ub, 17 sb = 48
23 series – 48 sb (photo 3)
24 series – (1 ub, 3 ibn) * 3, 9 cf., (1 ub, 3 cf.) * 3, 9 sbn = 42
25 series – (1 ub, 2 ibn) * 3, 9 cf., (1 ub, 2 ibn) * 3, 9 sbn = 36
26 row – (1 ub, 1 sbn) * 3, 9 sb, (1 ub, 1 sb) * 3, 9 sbn = 30
27 row – (3 ub, 9 sb) * 2 = 24
28 rows – 2 ub, 6 sb, 3 ub, 6 ubn, 1 ub = 18 (photo 4, 5), fill, continue to knit …

BODY:
29, 30 rows – 18 sbn
31 rows – (2 sb, 1 prib) * 6 = 24
32 row – 24 сбн
33 row – (5 sb, 1 prib) * 4 = 28
34 – 45 rows / 12 rows / – 28 sb (photo 6)
46 row – 26 sb, put the marker – this is the new beginning of the series (photo 7), fill, continue to knit …

LEFT LEG:
47 row – 13 sb, close in a circle in the marked loop (photo 8)
48 – 57 rows / 10 rows / – 13 sb (photo 9)
58 row – 6 ub, 1 sbn = 7, fill, pull the hinges. (photo 10, 11)
RIGHT LEG:
on the remaining 13 loops of the trunk, the second leg is likewise tied (photo 12-14)

HANDS: 2 pieces
1 row – 5 sb in the spacecraft
2 row – 5 prib = 10
3 – 17 rows / 15 rows / – 10 sb
18 row – (3 sb, 1 ub) * 2 = 8, lightly fill, fold in half, tie both edges together 3 sbn and 1 ss, leave
tip of the thread for sewing.
Both handles sew to the body, leaving 2 rows for the neck. (photo 15 – 21)
To make a face, make hair.
DRESS: colors A and B
We knit with swivel rows with a change of color, a detailed photo-explanation in the file
1 row – 30 inches
2 series – turn, 1in, 4sbn, prib, 5sbn, prib, 4sbn, color change, 1sb, (prib, 5bb) * 2, prib, 1sbn = 35 (photo 5)
3 ranks – turn, 1 in, 5 sb, 1 prib, 6 sb, 1 prib, 5 sb, change of color, 1 sb, (1 prib, 6 sb) * 2, 1 prib, 1 sbn =
40
4 series – turn, 1 turn, 3 rolls (1 prib, 7 сбн) * 2, 1 приб, color change, 7 сбн, 1 приб, 7 сбн, 1 приб, 4 сбн = 45
5 row – turn, 1 in, 2 sb, (1 prib, 8 sbn) * 2, 1 prib, 1 sb, color change, 7 sb, 1 prib, 8 sb, 1 prib, 6 sbn =
50 (photo 6)
6 row – turn, 1 in, 25 sb, color change, 25 sb = 50
7 series – turn, 1 in, 7 sb, 3 in, prop. 11 сбн, 7 сбн, color change, 7 сбн, 3 вп, проп. 11 sb, 7 sbn; (photo 7, 8)
8 series – turn, 1 in, 3 sb, 1 prib, 3 sb on vp, 3 sb, 1 prib, 3 sb, change of color, 3 sb, 1 prib, 3 sb, 3 sbn
by cc, 3 sc, 1 prib, 3 sbn = 38 (photo 9)
9 row – turn, 1 in, 19 sb, color change, 19 sb = 38
10 series – turn, 1 in, 9 sb, 1 prib, 9 sb, color change, 19 sb = 39
11 series – turn, 1 in, 9 sb, 1 prib, 9 sb, color change, 20 sb = 40
12 series – turn, 1 in, 20 sb, color change, 20 sb = 40
13 series – turn, 1 in, 14 sb, 1 prib, 5 sb, color change, 20 sb = 41
14 series – turn, 1 in, 14 sb, 1 prib, 5 sb, color change, 21 sb = 42
15 row – turn, 1 turn, 21 cd, change color, 21 sb, connect with 1 loop of the row = 42 (photo 10)
16 series – turn, 1 turn, 4 slots, 1 prib, 16 сбн, change colors, 21 сбн, connect with 1 loop of the row = 43
17th row – turn, 1 std, 6 sb, 1 prib, 14 sb, color change, 22 sb, 1 ss = 44
18 series – turn, 1 in, 22 sb, change of color, 22 sb, 1 ss = 44
19 series – turn, 1 in, 3 sb, 1 prib, 18 sb, color change, 22 sb, 1 ss = 45 (photo 11)
20 series – turn, 1 in, 18 sb, 1 prib, 3 sb, color change, 23 sb, 1 ss = 46
21, 22 rows – turn, 1 turn, 23 сбн, change of color, 23 сбн, 1 сс = 46
23 series – turn, 1 in, 12 sb, 1 prib, 10 sb, color change, 23 sb, 1 ss = 47
24 series – turn, 1 in, 13 sb, 1 prib, 9 sb, color change, 24 sb, 1 ss = 48
25, 26 rows – turn, 1 turn, 24 roll, change of color, 24 сбн, 1 сс = 48
To make a dress to your liking.

More Amigurumi Doll Ideas: