Hello dear Amigurumi Followers
Today we share Amigurumi Purple Cow Free Pattern for you. As you know we share new free amigurumi pattern every day. The main crochets are gazelle, amigurumi bear, pola, crochet panda, penguin, giraffe, llama, pig, bunny, clown, lamb, bee, crochet unicorn, amigurumi doll, fox, penguin, dinosaur, crochet elephant, hippo, monkey, crochet cat, crochet dog and more …
Todays daily new amigurumi free crochet pattern is Amigurumi Purple Cow.
I want to give you some informations about this amigurumi free pattern ; Purple Cow.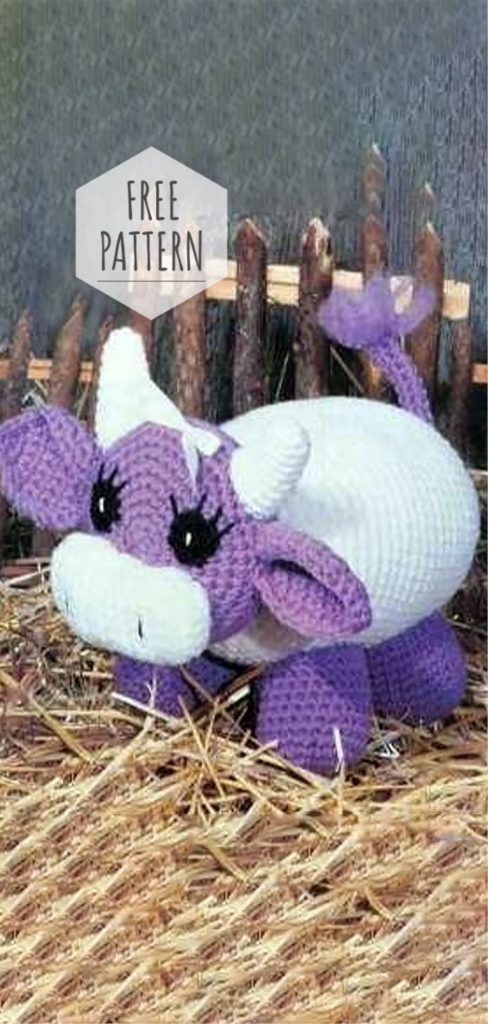 A kind, home-made cow-Amaguumi looks at the world with his huge eyes with a cook and is surprised – how can it not be linked?
What do you call it? Milka? That's right, it's white and very sweet. Or will you have all the famous tales of Burenka? However, let your child give the name of the cow-amaguumi, because it is for sure he will love it.
Materials:

Twisted yarn of lavender and white color.
A little black yarn for the eyes
Hook 4.5 mm
30 cm white narrow ribbon for bow
Needle for Embroidery
Packing for Amaguumi.
Amigurumi Purple Cow Free Pattern
Cow Body

Knit White yarn
1 row. Dial 2 VP, 6 St in the second loop from the hook (Total 6th)
2nd row. In a circle 2nd to each column of the previous row (total 12 art)
3 row. * 1st, 2nd in one column of the previous row * – Repeat 6 times (18 art)
4th row. * 2 St, 2nd in one column of the previous row * – Repeat 6 times (24 art)
5th row. * 3 St, 2nd in one column of the previous row * – Repeat 6 times (30 art)
6th row. * 4 St, 2nd in one column of the previous row * – Repeat 6 times (36th)
The 7th row. * 5 St, 2nd in one column of the previous row * – Repeat 6 times (42nd)
8 row. * 6 St, 2nd in one column of the previous row * – Repeat 6 times (48th)
9th row. * 7 Art, 2nd in one column of the previous row * – Repeat 6 times (54 St)
The 10th row. * 8 St, 2nd in one column of the previous row * – Repeat 6 times (60 art)
11 – 28 series. 60 St