Hello dear Amigurumi Followers
Today we share Amigurumi Pink Bunny Free Pattern for you. As you know we share new free amigurumi pattern every day. The main crochets are gazelle, amigurumi bear, pola, crochet panda, penguin, giraffe, llama, pig, bunny, clown, lamb, bee, crochet unicorn, amigurumi doll, fox, penguin, dinosaur, crochet elephant, hippo, monkey, crochet cat, crochet dog and more …
Todays daily new amigurumi free crochet pattern is Amigurumi Pink Bunny.
I want to give you some informations about this amigurumi free pattern ; Pink Bunny.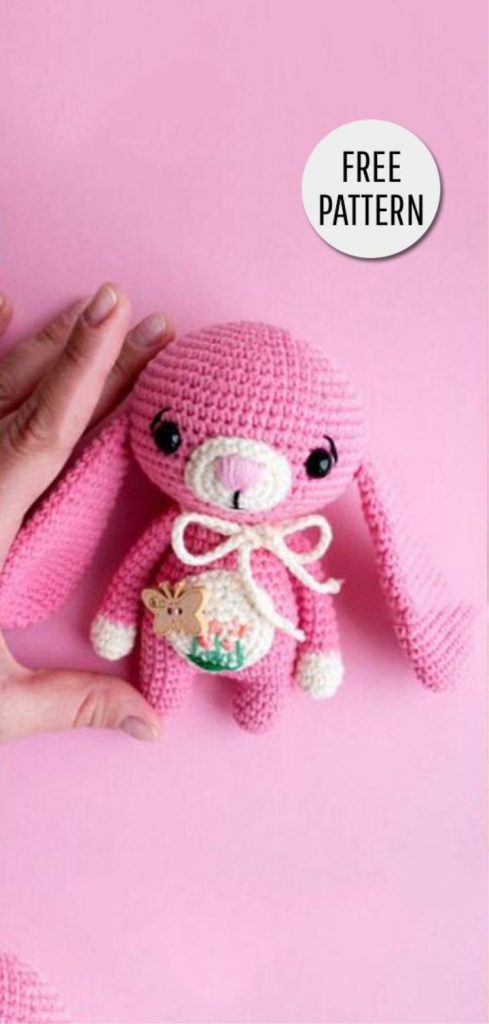 Designations:

KA – amigurumi
vp ring – air loop of the
SBS – a column without a nakida
pr – an increase (two columns in 1 loop)
pr3 – 3 sbn in one loop
ub – a decrease (2 sbn we knit together)
ub3 – a decrease (3 sbn we knit together)
ss – a connecting column
PSN – half column double crochet
– double crochet
prSSN – increase from CCH (two CCH in one column)
ass. n. – rear loop
lane. n. – front loop
(…) x – repeat the instruction in brackets (…) for x times The toy knits in a spiral, unless otherwise indicated.
Amigurumi Pink Bunny Free Pattern
Head
1 R 6 SBS v CA
2 р 6 PR (12)
3р (1 SBS, PR) х6 (18)
4 р (2 SBS, PR) х6 (24)
5 р (3 sbs, Ave) Х6 (30)
6 р (4 sbн, Ave) Х6 (36)
7 р (5 sbs, Ave) x (42)
8 Р (6 SBS, PR) x (48)
9 Р (7 sbs, Ave) Х6 (54)
10 Р (8 SBS, PR) х6 (60)
11-16 р 6 Ryabov (60 SBS)
17 Р (8 SBS, UB) Х6 (54)
18р (7 SBS, UB) Х6 (48)
19 Р (6 SBS) х6 (42)
20 р (5 SBS) х6 (36)
21 Р (4 SBS, UB) х6 (30)
22 Р (3 SBS, UB) х6 (24)
23 Р (2 SBS, UB) х6 (18)
Ostavlyaem Dlynnyj konts for sewing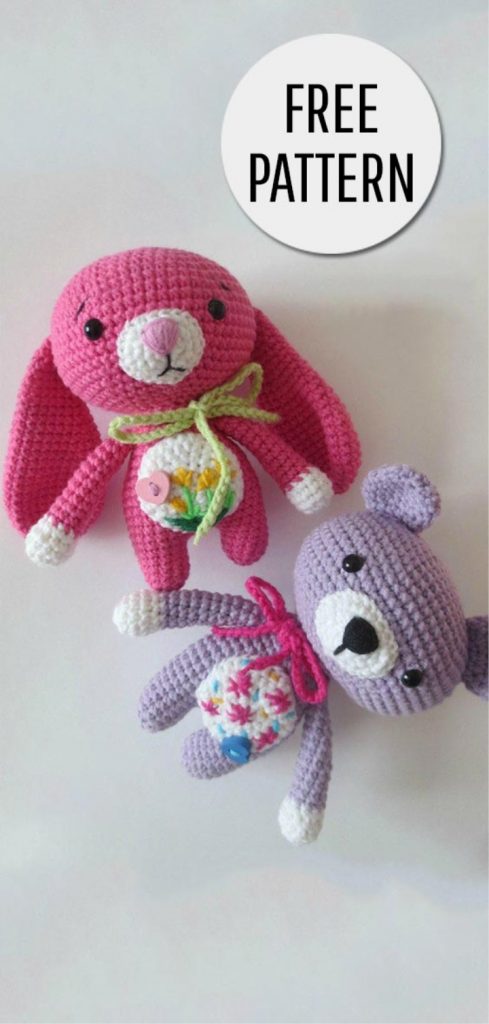 Foot-Teto
Vyvnaem Vizesh with Nozhek, on the original Nozhke will not Obrezatat, Pryytati konts, on the drown is not obrivaem.
1 R 6 SBS v CA
2 р 6 PR (12)
3-6 р 4 Riida (12 SBS)
7 p. On the Fatigue Noge Dial 5 VP, 12 SBN on the first Nozhke, 5 SBN on DS, 12 SBN on the Drown, 5 SBS on the DS (34 SBN)
8-13 р 6 Ryabov (34 SBS)
14 р 6 SBS, UB, 15 SBS, UB, 9 SBS (32)
15 R 6 SBS, UB, 14 SBS, UB, 8 SBS (30)
16 р 6 SBS, UB, 13 SBS, UB, 7 SBS (28)
17 р 6 SBS, UB, 12 SBS, UB, 6 Сбн (26)
18 р 6 SBS, UB, 11 SBS, UB, 5 SBS (24)
19 R 6 SBS, UB, 10 SBS, UB, 4 SBS (22)
20 R 6 SBS, UB, 9 SBS, UB 3 SBS (20)
21 Р 6 SBS, UB, 8 SBS, UB, 2 SBS (18)
Pens by Vyznaem Belym Tsvetom
1 R 6 SBS v CA
2 р 6 PR (12)
3-4 (12 SBS)
5 р (2 SBS) х3 (9)
Menyem Tvet
6-10 р 5 Ryabov (9SBS)
11, UB, 7 SBS (8)
12-15 р 4 Riida (8 SBS)
16 R UB, 2 SBS, UB, 2 SBS (6)
17 Р (6 SBS)
Ostavlyaem Dlynnyj konts for sewing
Usshi Rabbit
1 R 6 SBS v CA
2 р 6 PR (12)
3р (1 SBS, PR) х6 (18)
4 р (2 SBS, PR) х6 (24)
5-11 р 7 Ryabov (24)
12 Р (10 SBS, UB) х2 (22)
13 R 22 SBS
14 Р (9 SBS, UB) х2 (20)
15 R 20 SBS
16р (8 SBS, UB) х2 (18)
17 P 18 SBS
18р (7 SBS, UB) х2 (16)
19 R 16 SBS
20 Р (6 SBS, UB) х2 (14)
21 P 14 SBS
22 Р (5 SBS, UB) x 2 (12)
23 Р 12 SBS
24р (4 SBS, UB) х2 (10)
Ostavlyaem Dlynnyj konts for sewing
Muzzle
1 R 6 SBS v CA
2 р (2 PR, SBS) х2 (10)
3 р 1 Sbн, 2 PR, 3 SBS, 2 PR, 2 SBS (14)
4 р 1 SBS, 4 PR, 3 SBS, 4 PR, 2 SBS (22)
Inserts Dlynnyj konts for sewing
Bubko
1 R 6sbs v CA
2 р 6 PR (12)
3р (1 SBS, PR) х6 (18)
4 р (2 SBS, PR) х6 (24)
5 р (3 sbs, Ave) Х6 (30)
Ostavlyaem make for Sewing
Tail
1 R 6 SBS v CA
2 р 6 PR (12)
3-4 р 12 SBS
5 p 6 UB (6СN)