Hello dear Amigurumi Followers
Today we share Amigurumi Ostrich Free Pattern for you. As you know we share new free amigurumi pattern every day. The main crochets are gazelle, amigurumi bear, pola, crochet panda, penguin, giraffe, llama, pig, bunny, clown, lamb, bee, crochet unicorn, amigurumi doll, fox, penguin, dinosaur, crochet elephant, hippo, monkey, crochet cat, crochet dog and more …
Todays daily new amigurumi free crochet pattern is Amigurumi Ostrich.
I want to give you some informations about this amigurumi free pattern ; Ostrich.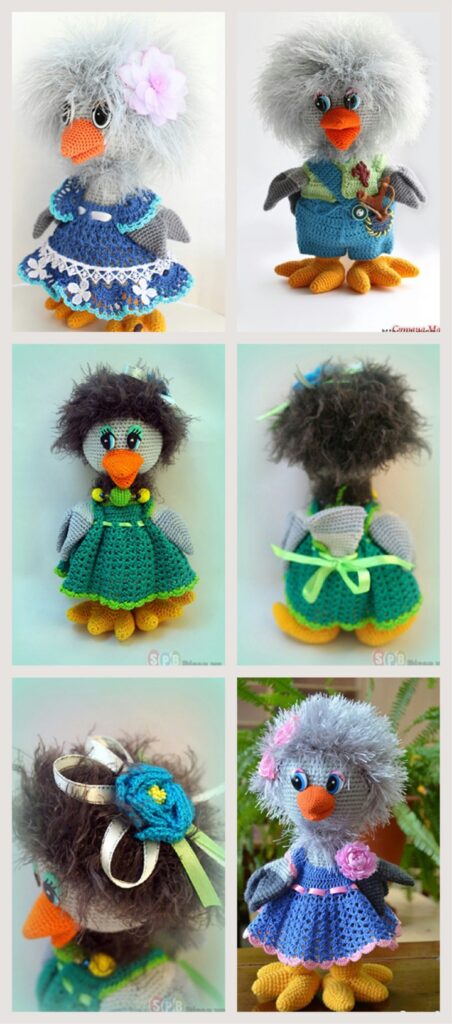 Necessary materials: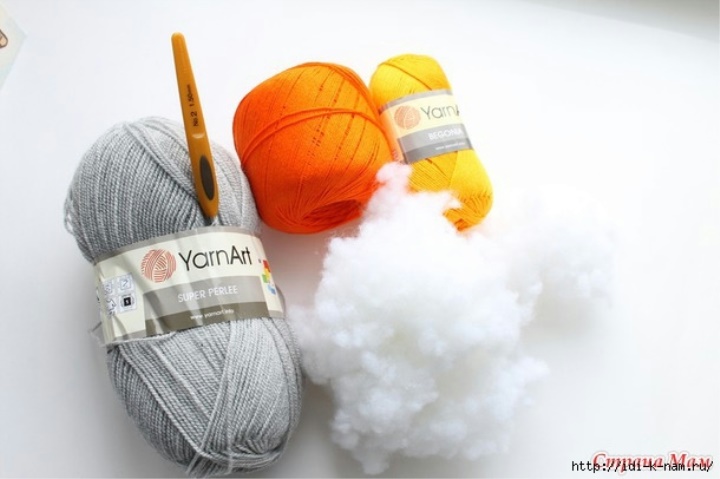 It will take a grayer, more dense shade for the wings and tail, grass for the hair and neck))))
We start knitting with the head . Everything is simple.
We look at this, we thought up and very intelligible, sketchbook and proceed
I knit the columns without a crochet, so I work on the first scheme. I dial six loops in an amigurumi ring and in each row I evenly add six loops each. I add until I have 66 of these same loops in the circle.
Next I knit 14 rows without adding. That is 14 rows of 66 loops. ))))
While everything is simple, right? I said that you should not be afraid … I'm afraid myself))))
Connected? We start to reduce. We subtract six loops in a row evenly. We knit so until the circle is narrowed to 12 loops.
4. That's what should happen in the end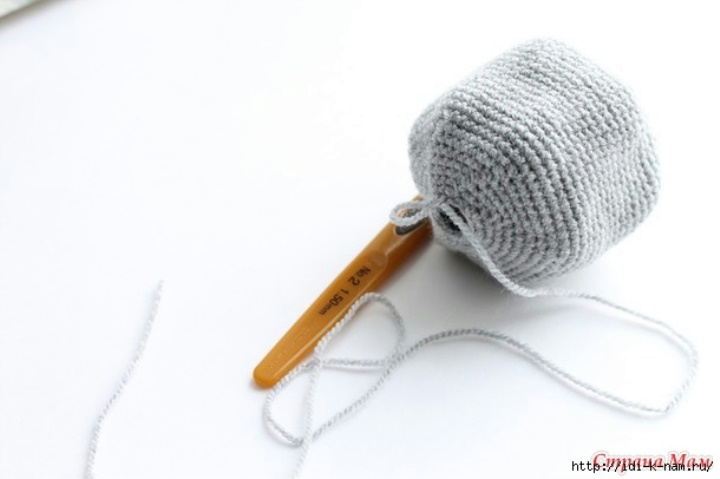 A slightly elongated detail.
Girls, do not hurry, we knit neatly and very tightly. We'll be hard to stuff, the bird should at least pretend
that it's worth it)))
I suggest two variants of knitting of a trunk on a choice.
We knit here according to this scheme
1p: 6sbn in an amigurumi ring, tighten
2p: 6pr (12)
3p: (1sbn, pr) x6 (18)
4p: (2sbn, pr) x6 (24)
5p: 24sb for the rear arcs of loops sewing to the head)
6 – 11pp: 24cb
12p: (7sbn, pr) x3 (27)
13-14rp: 27cb
15p: (8cb, pr) x3 (30)
16p: 30cb
17p: (9cb, pr) x3 (33)
18p: 33sbn
19p: (10sbn, pr) x3 (36)
20p: (5sbn, pr) x6 (42)
21p: 42sbn
22p: (6sbn, pr) x6 (48)
23-24p: 48sbn
25p: (7sbn, pr ) x6 (54)
26 – 27pp: 54sbn
28p: (8cbn, pr) X6 (60)
29-31rp: 60bn
32 r: 6 sb, (2sbn, pr) x6, 36sbn (66)
33-38pp: 66cb
39p: (9cb, yb) x6 (60)
40p: (8cb, yb) x6 (54)
41p : (4cb, yb) x6 (48)
42p: (6cb, yb) x6 (42)
43p: (5cb, yb) x6 (36)
44p: (4cb, yb) x6 (30)
45p: (3cb, yb) x6 (24)
46р: (2сбн, уб) х6 (18)
47р: (1сбн, 1б) Х6 (12)
48р: 6 уб
The thread is to be fixed, cut off and hidden inside the part.
Girls, who will knit without wire, do not change anything directly under the scheme and we knit. Well, or we change the sizes under ourselves if something does not suit (increasing or reducing quantity of numbers). When the torso is connected and the hook is full, pin it to the head with the pins and sew it with the same thread as the knitted details. We sew it gently and firmly.

If you have chosen a variant with a wire, we also knit according to the scheme, but we will start immediately from the 6th row. To do this, the head is slightly dismissed (until the moment when we have in the circle will be 24 cd) and begin to knit directly from the head with a single detail. Having knitted several rows, we will insert a wire (if very thin, bend in half). At me the wire passes through all head and all trunk
Here so
Wholly the bound and stuffed detail should look here so: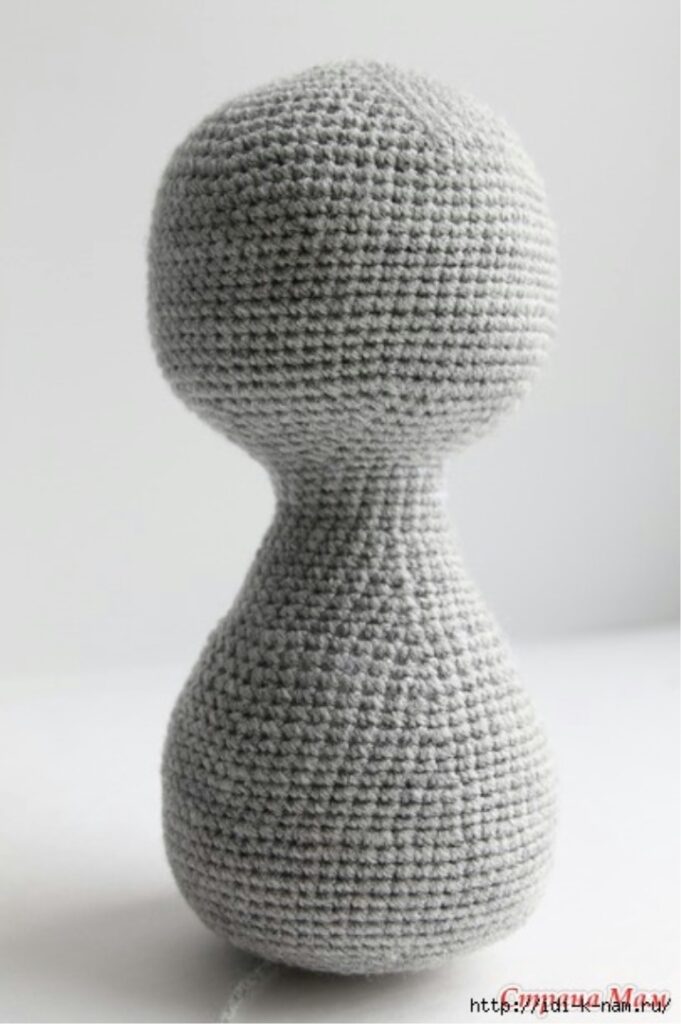 For those who will sew the body to the head, it should look the same, only the seam will be visible. It's intrepid, it will close with a boa.

Girls, I remind, stuffing with a hook!
Then we knit "hair". To do this, we take our grass and a hook of the appropriate size (I have a three) and we knit a "cap". Since yarns are different for everyone, I do not see a scheme for painting. We knit just like a head, always applying our product to it. The cap should be slightly wider than the head and cover about a third of it. That's what should turn out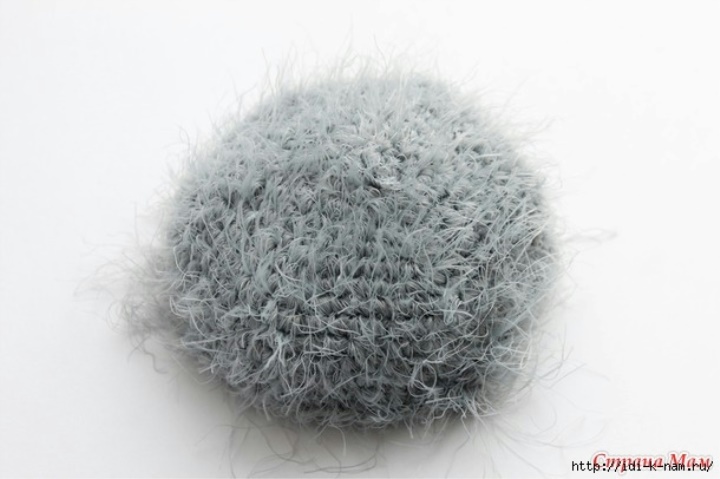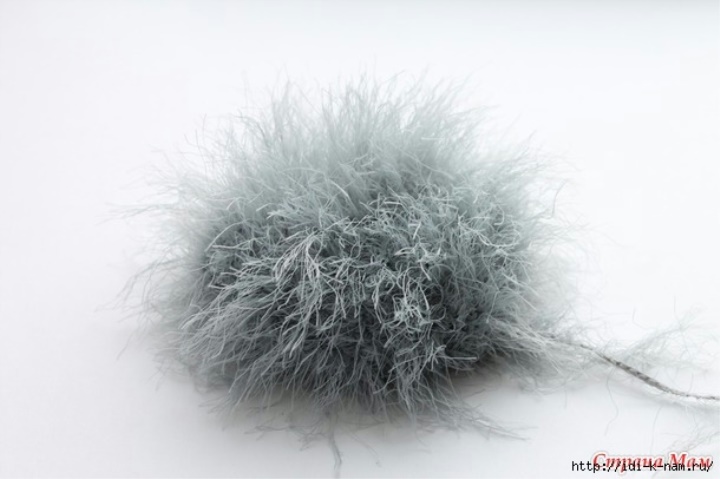 To do this, I pin the cap with pins, slightly shifting it back to open my face. "Zad" we have where we knit this beauty.
32 r: 6 sb, (2sbn, pr) x6, 36sbn (66)
33 – 38p: 66sbn) is a priest. We will then sew a tail to it.

Should be like this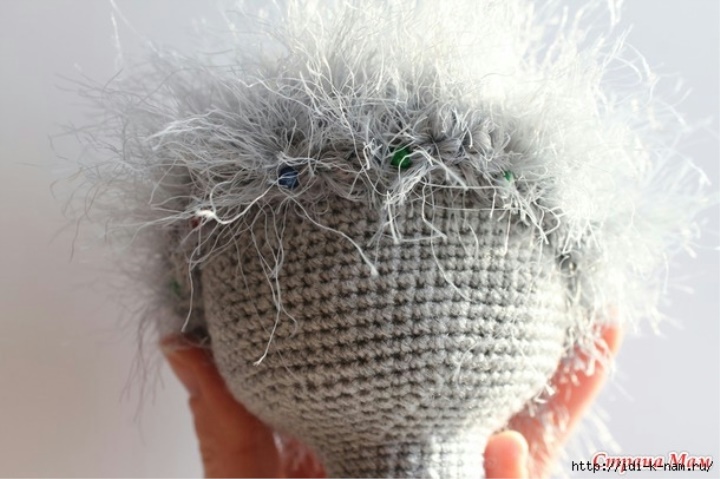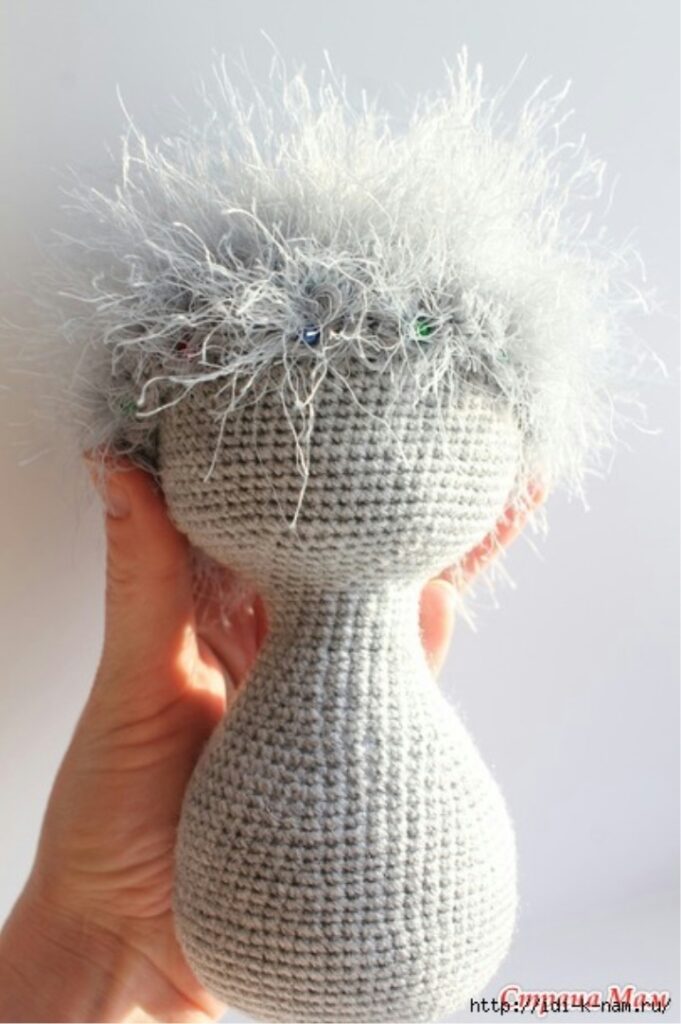 Beak
Pick six loops in a ring amigurumi, tighten.
1p: (1 sb, pr) x 3 (9)
2p: (2sbn, pr) x 3 (12)
3p: (3 sc, pr) x 3 (15) …
Adding this way until you get 30 sb. Then we knit three rows without adding.
However, I advise you to try your beak on the muzzle. Perhaps you would like it to be a little more or a little less. Then just add or cut the number of rows.
The lower part of the beak is knitted similarly to the upper, but it should be slightly smaller. Therefore, we stop adding to 24 sbn and we knit two rows without addition.
Then both halves need to sew like this.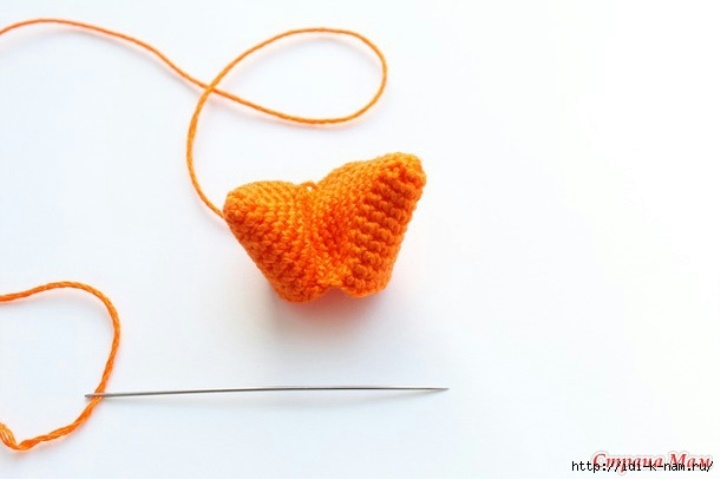 Cut out of the plastic two triangles, one of which in the perimeter should be equal to the upper part of the beak, the other lower part of the beak.
We insert our skeleton into the beak. Filling.
We are not very tight, we need to form a beak of the right shape.
Gently pin our pins to the face of our beauty.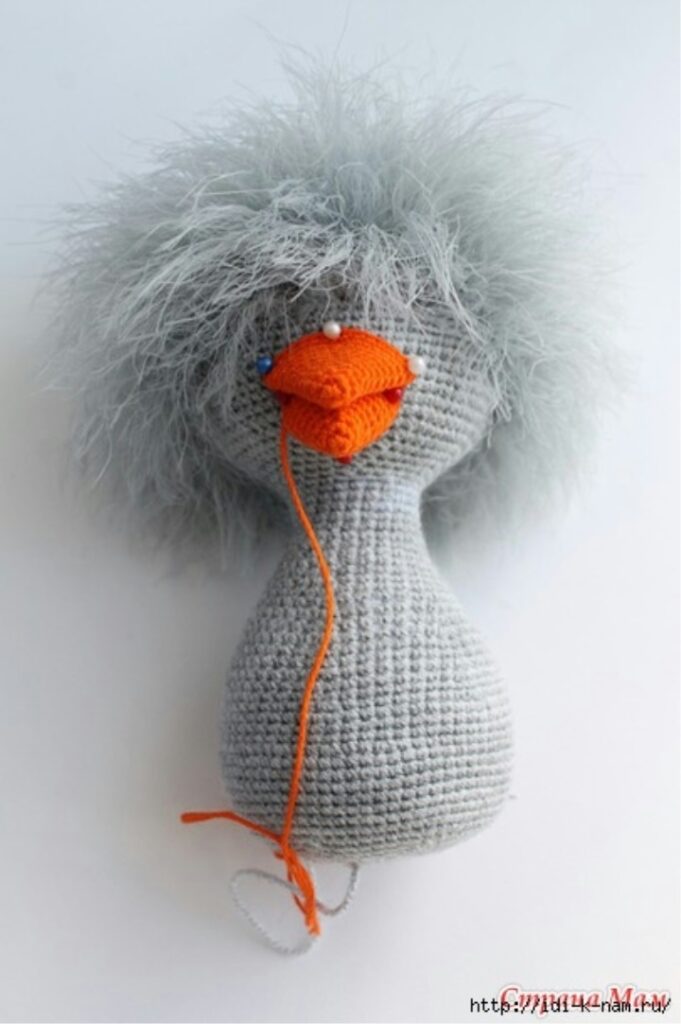 Girls, pay attention, I have a little overdone with the hair, making the "cap" too big – I have almost no place for the eyes. Do not repeat my mistakes. All the same, it's a crow, not a chinchilla))))
Klyuvik sewed? Let's go further.
Wings
Recruit 4 loops in an amigurumi ring, tighten.
1p: (1 сбн, пр) х2 (6ббн)
2р: (2сбн, пр) х2 (8сбн)
3р: (3сбн, пр) х2 (10сбн)
4р: (4сбн, пр) х2 (12 сбн) …
We add in this way until it turns out 26 sc.
We knit two more rows without adding.
There are six pieces to be associated with such details.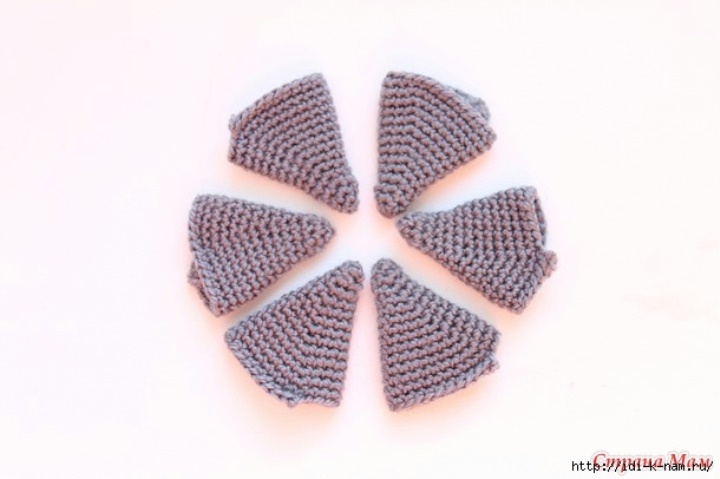 Next, you have to show imagination. The details must be connected in such a way that when tying them all together in a circle, the number of loops multiples of six. In this case, the part should not get too wide.
I do it this way: I put one part on another so that the width of the future wing necessary to me (purely visually) turns out. That's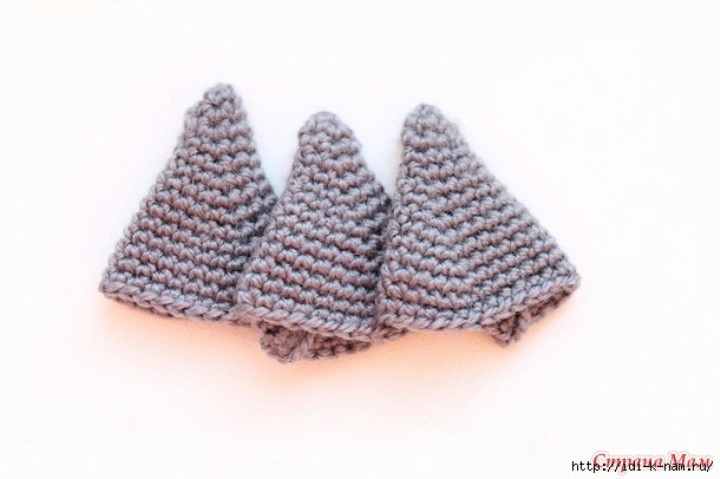 And I tie all the details together in a circle. Simultaneously connect, making sure that the number of loops in the end was a multiple of six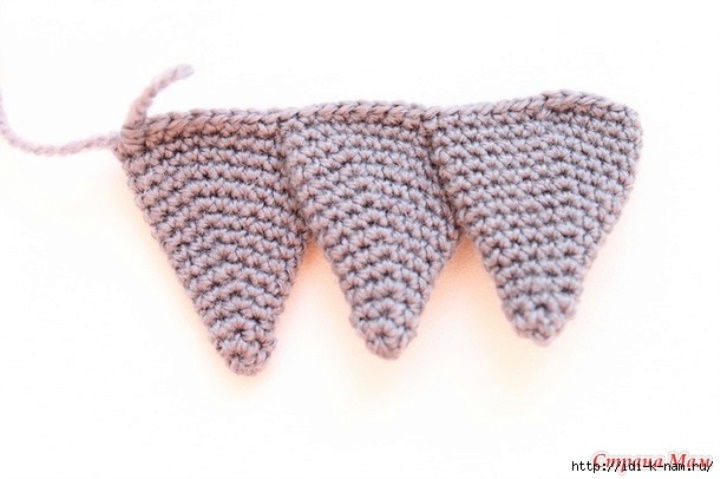 I got exactly 60 cms.
Next, change the yarn to contrast and begin to knit the base of the wing.
1p (8sbn, UB) x6 (54)
2p: (7sbn, UB) x6 (48)
3p: (6sbn, UB) x6 (42)
4p (5sbn, UB) x6 (36)
5p (4sbn, K ) x6 (30)
6p: (3cbn, уб) х6 (24)
7р: 24 сбн
8р: (2сбн, уб) х6 (18)
9р: 18 сбн
10р: (1сбн, уб) х6 (12)
11р: 6 уб
Tighten. Cut the thread to a sufficient length (it will be useful for sewing the wing to the trunk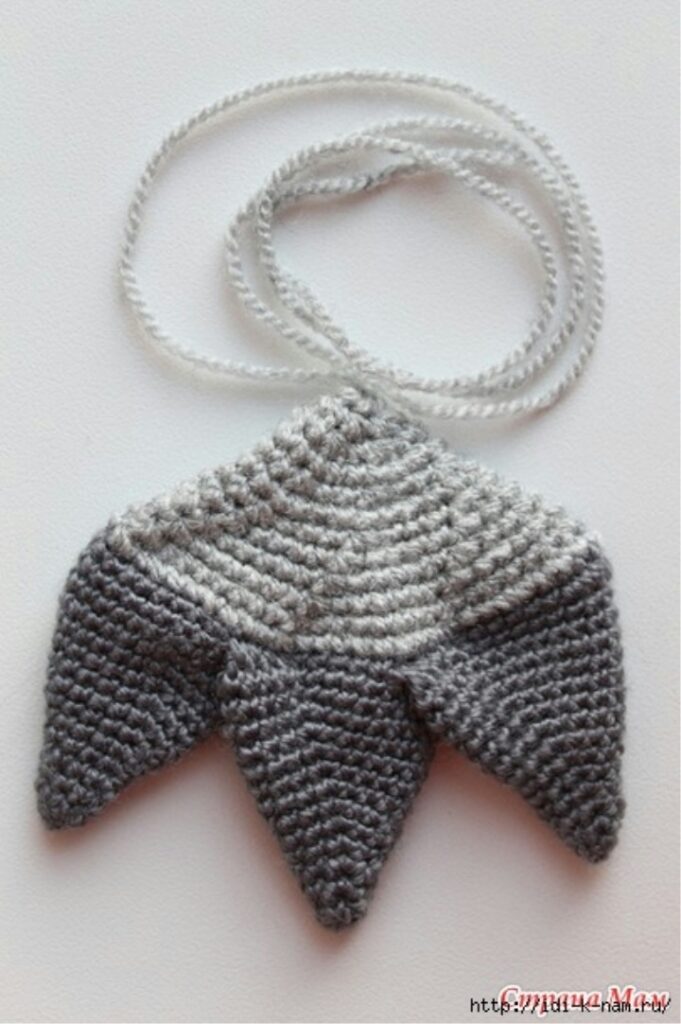 Girls, I recall, it's online. You can offer your options for untying these or other details. Perhaps yours will be easier and more interesting.
Paws
Collect six bars without a crochet in an amigurumi ring, tighten.
1p: (1 cbn, pr) x3 (9)
2p: 9 cbn
3p: (2 cbn, pr) x3 (12)
4p: 12 cbn
5p: (3 cbn, pr) x3 (15)
6p: 15 sb
7p : (4 сбн, пр) х3 (18)
8-9рр: 18 сбн
Thread the thread, cut off.
Such parts must be linked six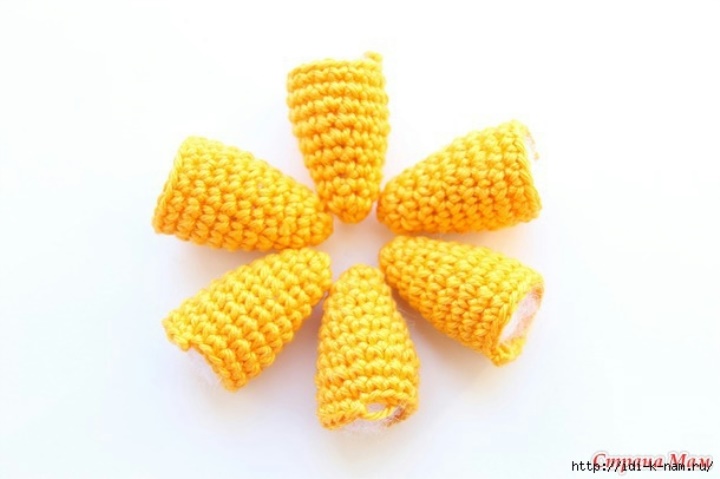 Next undergirding three items together in a circle. It should turn out 54 sc.
Are they tied up? Then we start to work in from this scheme.

1-2р: 54 сбн
3р: (7 сбн, уб) х6 (48)
4p: (6 сбн, уб) х6 (42)
5р: (5 сбн, уб) х6 (36)
6р: 36 сбн
7р: (4 сбн, уб) х6 (30)
8-9рр: 30 сбн
10р: (3 sc, UB) x6 (24)
11r: (2sbn) x6 (18)
12p: (1sbn, K) x 6 (12)
13: 6 subtraction tighten, cut yarn, hide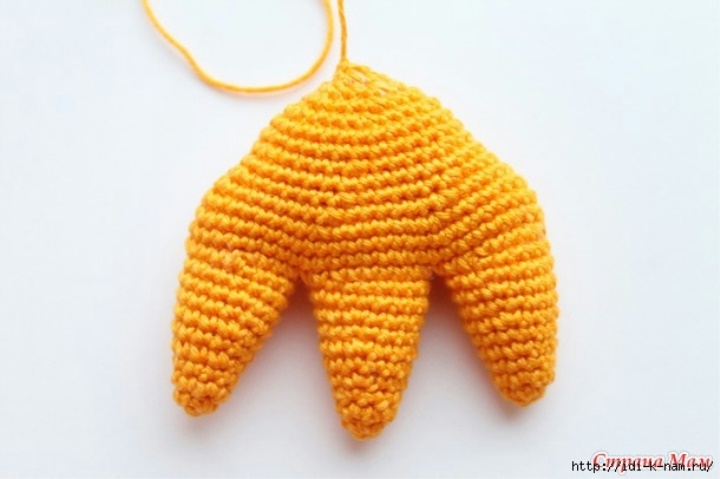 Detail postpone

Gaining 6 loops amigurumi ring delaying . We knit a circle (the first scheme in the text) until it turns out 24 sc. Next, we knit 24 sb for the rear hinge walls (the place of sewing the part to the foot).
Then we knit without adding, until the height of the foot does not seem to be sufficient – I have five rows.
The detail is sewn to our foot. It should look like this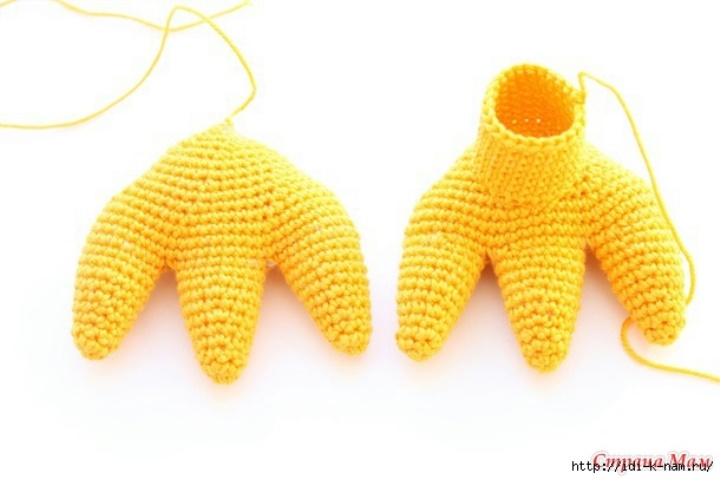 Tail
Type 17 VP, crochet around the chain, adding to the first and last loop of a chain of three cb.
In all, we should get 34 sc.
We knit two rows without decrements.
In the third row "at the corners" we sew three loops together.
Two more rows knit without decrements (30 sb).
We change the thread to the contrast and two more rows to knit without decreasing.
In the next row, we again reduce, having tied off the edges of three sbn together.
Two more rows knit without decrements (26 sb)
Again, as before, two decreases (22 sb).
Another number of knit without decreasing.
In the next row, we again reduce (18 sb).
And we knit the last row. The thread is fixed and cut. The length of the thread should be sufficient to sew the tail to the trunk.
I am supposed to be here a tail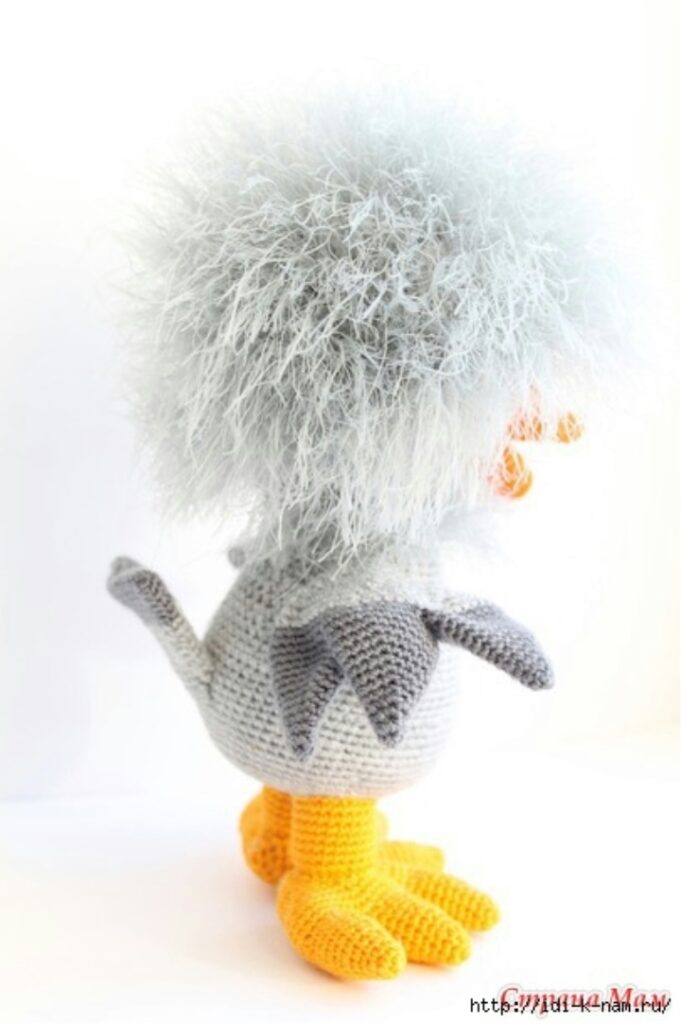 Sew on a little bent to the tail sticking out nicely))))
Then knit neckpiece our swan neck.
It's simple. We take our weed, we recruit a chain from the EP, equal to the neck circumference and we need to knit the number of polustolbikov, or columns with a crochet. Strongly sew on the neck. If necessary, trim it so that it does not look like a beard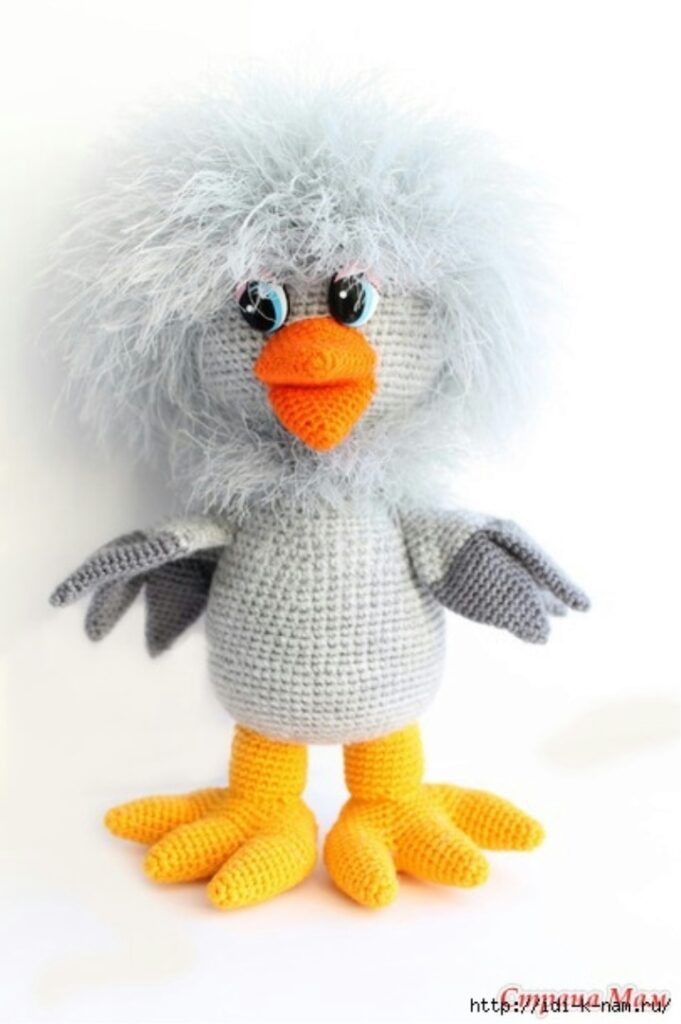 Sewing paws and wings (do not forget that the details must first be pinned, only so they will look nice and symmetrical). Wings sew, slightly bent, as if a house. The surface of sewing should be small, otherwise our lady of fashion can hardly pull the sarafan
Girls, well, do we wear our ptytsu?
Let's start with the dress, perhaps. I hope she does not swear too much.
So, the dress (in italics I will designate my changes in the description)
To type a chain from 50 in + 3vp of lifting
We knit with turning rows, each row starts 3vp of lifting.
1 r .: 8ss, 2v, 9ssn, 2in, 16ssn, 2vp, 9ssn, 2vp, 8ssn
2 r .: 7ssn, pr, in the arch 1ssn, 2vp, 1ss, pr, 7ssn, pr, in the arch 1ssn, 2vp, 1ss, pr, 14ssn, pr, in arch 1ssn, 2vp, 1ss, pr, 7ssn, pr, in the arch 1ssn, 2vp, 1ssn, pr, 7ssn
3 r: 8ssn, pr, in the arch 1ssn, 2vp, 1ss, pr, 9ssn, pr, in the arch 1ssn, 2vp, 1ss, pr, 16ssn, pr, arch 1ssn, 2вп, 1ссн, пр, 9ссн, пр, в арку 1ссн, 2вп, 1ссн, пр, 8ссн
4 р .: 11ссн, let's skip everything between the arches (this is armhole armhole) (I did not just skip, but tied 17 air loops. We have the same wings and they should pass freely into the armholes of the sleeve, but I have a fine yarn Alize miss, maybe your yarn is thicker, the chain can be smaller or e generally can not be performed) , more 22ssn knit, miss everything between the arches (second arm – armhole) – and over the chain of stitches 17, 11сн
5 a row: in each second loop of the previous row we knit 1сн, 2вп, 1сн
6 row: we knit 1cc, 1bn, 1сн
7 in each arched knit: in each arched knit 2сн, 2вп, 2сн
8 we knit similarly to row 7, and in end of cc – we connect with the beginning of the series (girls, it may be necessary to join the ranks later on, not in this row, but in the next or even a little farther, because we have a tail and he must hang around freely, not be under it. so try on a dress and look, where to do this same connection number) and then knit with circular rows are closed, where each row in the inaetsya 3-sn lifting and ends ss.
9 – 12rr: in each arch we knit 2ss, 2vp, 2ssn.
13 row – strapping –
In each arch of the previous row we knit to 6ss.
Tie the neck of the snake in a circle, simultaneously forming the loops for two buttons (I have one).
That, in fact, and the entire description.)))) Reasonable and understandable.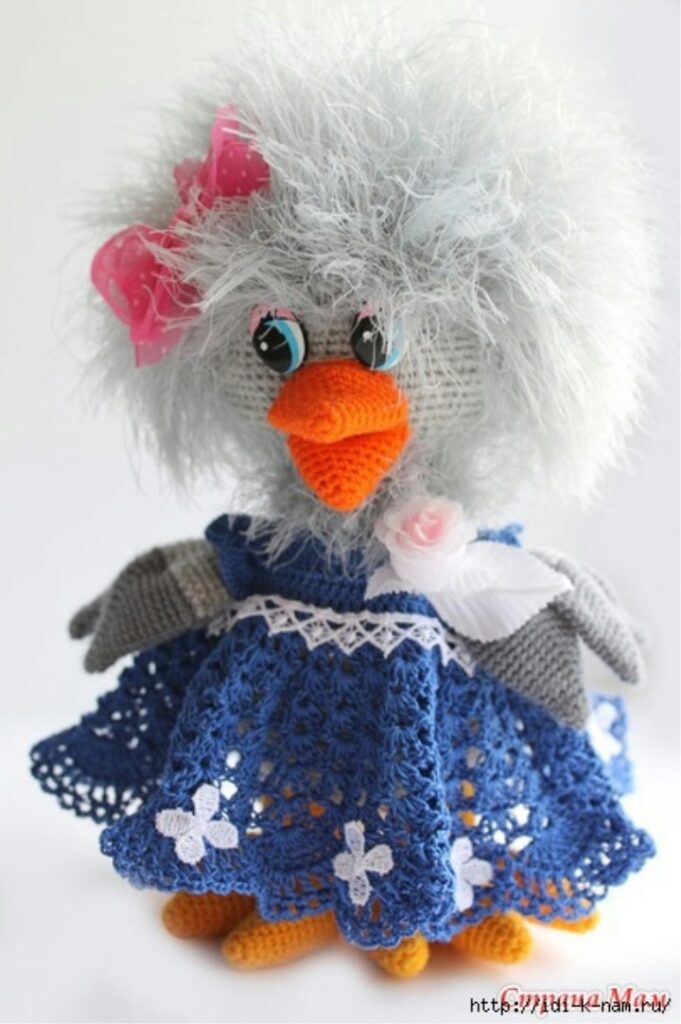 Now to the panties.
Dial a chain of 70 in, close in a circle.
We knit with closing rows. Each row starts from the up and up, and ends with ss in 1 column of the row.
1 р .: 1вп, 70сбн, сс
2p .: 4in, 1 CCN, then we dial a chain of 10 vp, let's pass 10 loops of the base, hook it into the 11th loop and we sew the CLS, then we knit to the ends of the row of CCN (this will be a hole for the tail).
3 – 7 рр: 3вп, 70ссн, сс
Next, each knit knit separately
7 rows – dial 5 in, pass 35 loops of the previous row, ss in the 36 loop of the previous row. 3вп lifting and then we knit 35 ссн on the previous row, 5сн on a chain from 5вп, сс (40)
8р .: 4 ССН
Second leg:
Attach the thread to the beginning of the chain from 5вп, 3вп lifting and tie 5сн on a chain and 35 СНН on loops 6 rows (40)
Associate another row of 40 CLOs.
All our pants are ready. Further we decorate in own way to the discretion. Pockets, tie, buttons, buttons … Everything is in your hands.
Girls, a shirt (if someone needs it) is knitted according to the description of the sarafan, but instead of the openwork rows we knit a series of CLS, we form a loop with the strapping of the edge, we sew a button

More Amigurumi Ostrich Ideas: