Hello dear Amigurumi Followers
Today we share one free amigurumi crochet pattern again for you. As you know we share new amigurumi free patterns every day. The main crochets are amigurumi gazelles, amigurumi bears, amigurumi pola, amigurumi pandas, amigurumi penguins, amigurumi giraffes, amigurumi llama, amigurumi pigs, amigurumi bunny, amigurumi clowns, amigurumi lambs, amigurumi bees, amigurumi unicorns, amigurumi dolls, amigurumi foxes, amigurumi penguins, amigurumi dinosaurs, amigurumi elephants, amigurumi hippos, amigurumi monkeys, amigurumi cats, amigurumi dogs and more …
Todays daily new amigurumi free crochet pattern is Amigurumi New Year Elk.
I want to give you some informations about this pattern ;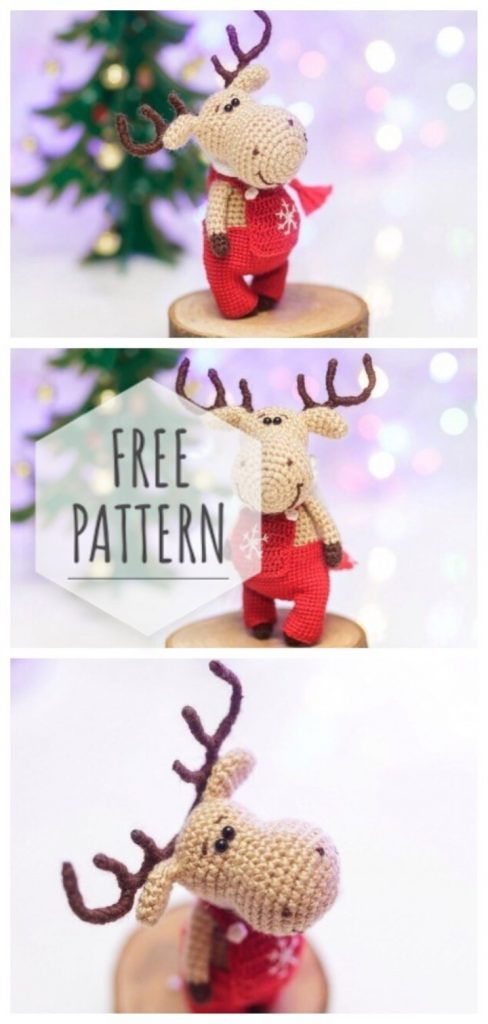 Abbreviations

UBN – single crochet 
Vp – Air loop
approxx – approximately
kill – subtract (knit 2 sbn together) 
tr – treble crochet

Head. 

1 p. – 2 VP-6 Ubn (6 Ub in the ring of amigurumi ) 
2p. – 6 prs. = 12 sat
3r. – 6 prib = 18 sbn 
4r. – 6 approx. = 24 Sat
5r. – 6 approx. = 30 Sat
6r. – 6 prs. = 36 Sat 
7 – 9p. = 36 Sat 
10r. – 6 kill = 30 sat 
11p. – 4 killed = 26 Sat 
12r. – 4 killed = 22 Sat 
13p. – 4 killed = 18 Sat 
14p. – 6 prs. = 24 Sat 
15p. – 6 prs. = 30 Sat 
16 – 18r. = 30sbn 
19r. – 6 kill = 24 Sat
20r. – 6 kill = 18 Sat 
21r. – 6 kill = 12 UBN
22r. – 6 kill = 6 sbn 
Body. 
1 p. – 2 VP -6 sbn (6 sbn in the ring amigurumi ) 
2p. – 6 prs. = 12 sat
3r. – 6 prib = 18 sbn 
4r. – 6 approx. = 24 Sat
5r. – 6 arriv = 30 sbn
6p. – 6 prs. = 36 Sat 
7 – 10p. – 36 Wed 
11r. – 6 kill = 30 sat 
12p. = 30 Sat 
13p. – 6 kill = 24 Sat 
14 – 15r. = 24 Sat 
16p. – 4 killed = 20 Sat 
17 – 18r. = 20 Sat 
19p. – 4 killed = 16 Sat 
20 – 21r. = 16 sbn 
Hands.
brown yarn
1p. – 2 VP -6 sbn (6 sbn in the ring amigurumi )
2p. – 1 arb. = 7 Sat
3 – 4p. = 7 sbn
beige yarn
5 – 12r. = 7 sbn
Feet.
brown yarn
1p. – 2 VP -6 sbn (6 sbn in the ring amigurumi )
2p. – 2 prs. = 8 sat
3 – 4p. = 8 sbn
beige yarn
5 – 13p. = 8 sbn
Ears.
1 p. – 2 VP -6 sbn (6 sbn in the ring amigurumi ) 
2p. – 1 arb. = 7 sat
3r. – 1 arb. = 8 sat 
4r. – 2 prs. = 10 sat
5r. = 10 sat
6r. – 2 kill = 8 sat 
7r. – 4 killed = 4 sbn 
Pants.
The first leg – we collect 20 vp, we connect into a circle, we knit 8 rows of 20sbn each, we cut the thread.
the second leg is similar to the first, without cutting the thread, we turn and knit 5sbn, ce, turn, and so 11 rows, we connect to the first leg, and then we knit 14 rows in a circle.
Pants top: 15 sat * 9 rows.
We sew to the pants, fasten the straps and buttons.

I make horns from wire wrapped in yarn.