Hello dear Amigurumi Followers
Today we share one free amigurumi crochet pattern again for you. As you know we share new amigurumi free patterns every day. The main crochets are amigurumi gazelles, amigurumi bears, amigurumi pola, amigurumi pandas, amigurumi penguins, amigurumi giraffes, amigurumi llama, amigurumi pigs, amigurumi bunny, amigurumi clowns, amigurumi lambs, amigurumi bees, amigurumi unicorns, amigurumi dolls, amigurumi foxes, amigurumi penguins, amigurumi dinosaurs, amigurumi elephants, amigurumi hippos, amigurumi monkeys, amigurumi cats, amigurumi dogs and more …
Todays daily new amigurumi free crochet pattern is Amigurumi Cute Chick.
I want to give you some informations about this pattern ;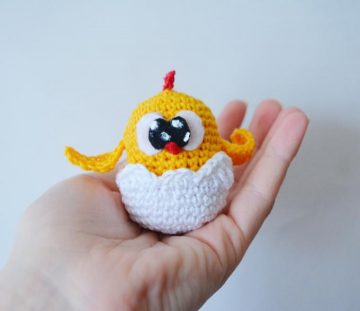 We need:
* plastic container in the form of an egg
* Remnants of yarn of three colors
* Hook
* felt
Then we knit without increments in a circle to close the "walls" of the container.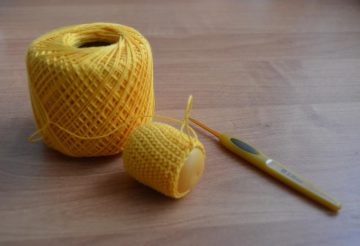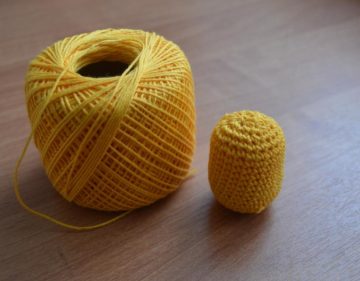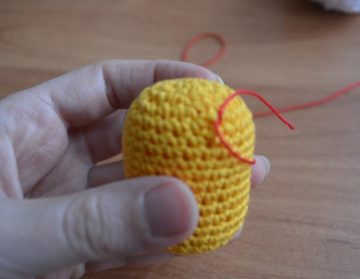 Now our baby needs wings. To do this, you need to associate 10air loops. The next row: a column without a crochet, a half-tattoo, twoA column with a single crochet, a column with two crochets, two staves withone crochet, one half-pile, a column without a crochet. The thread is cut andtie in the same way the second winglet. Wings sewnsymmetrically on the sides.
I tied the bill in this way: connect the red thread to the workpiece andconnect the peak of the three loops. Cut the thread and remove.Next we make from the felt eye: two mugs of white felt and twoless – of black. Stick or sew over the beak. Tothe chicken looked more fun, I tied him half of the shell.For this purpose, a "cup" of white yarn is knit together without the crochet. Edgeit can be tied in the following way: a joint column, a column withoutnakida, two columns with a crochet, a column without a crochet, a connectingcolumn. Repeat the required number of times to get a wavy edge"shell".
To make the eyes more "alive", I made a few highlights whitepaint for textiles.From a big egg from collector machines you can make thischicken larger: