Hello dear Amigurumi Followers
Today we share Amigurumi Christmas Little Dog Free Pattern for you. As you know we share new free amigurumi pattern every day. The main crochets are gazelle, amigurumi bear, pola, crochet panda, penguin, giraffe, llama, pig, bunny, clown, lamb, bee, crochet unicorn, amigurumi doll, fox, penguin, dinosaur, crochet elephant, hippo, monkey, crochet cat, crochet dog and more …
Todays daily new amigurumi free crochet pattern is Amigurumi Christmas Little Dog.
I want to give you some informations about this amigurumi free pattern ; Christmas Little Dog.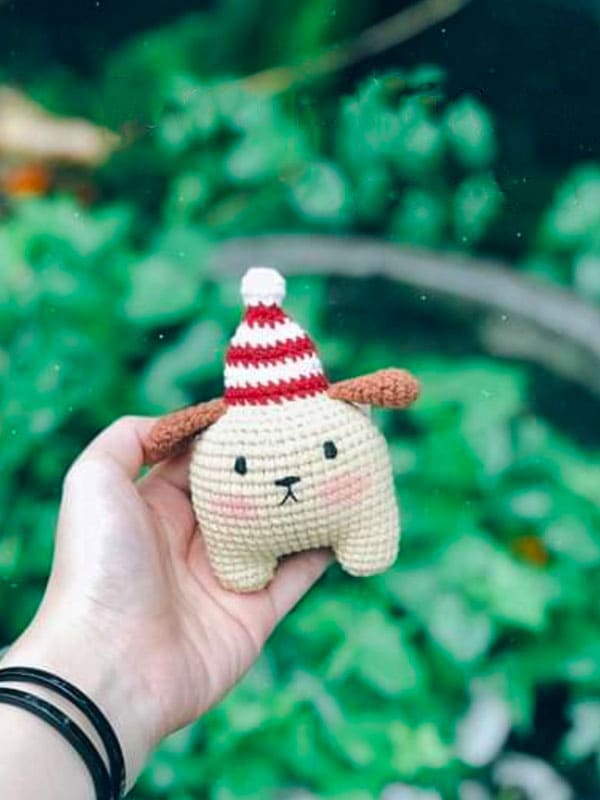 Materials & tools
1. Yarn I used: Yarn Art Jeans with 4 colors: beige (for body & head) and brown (for ears), white and red for hat.
2. Crochet hook 2.0mm
3. Fiberfill
4. Tapestry neer
5. A black thread for sew eyes and nose
Abbreviations
MR – magic ring
St(s) – stitch(es)
Ch – chain
Sl st – slip stitch
Sc – single crochet
Inc – increase (2 sc in the same stitch)
Dec – decrease (crochet 2 sc together)
Flo – work through the back loop only
Blo – work through the front loop only
Let's crochet the body and legs of the amigurumi dog
Amigurumi Christmas Little Dog Free Pattern
Legs & Body
Rnd 1. 8 SC
Rnd 2. 8 inc (16)
Rnd 3-4. 16 sc (2 rnds)
Cut the thread on the first leg, make the second leg similarly, do not cut the thread on the second leg and make a chain of 6 ch.
Rnd 5. 16 sc on 16 sts of first leg, 6 sc on the chain, 16 sc on 16 sts of second leg, 6 sc on the other side of the chain. (44)
Continue crocheting the body:
Rnd 6-10. 44 sc (5 rnds) Stuff
Next go to crocheting the head, do not cut off the thread.
Rnd 11-17. 44 sc (7 rnds)
Rnd 18. (9 sc, dec) x 4 (40)
Rnd 19. (8 sc, dec) x 4 (36)
Rnd 20. (7 sc, dec) x 4 (32)
Rnd 21. (2 sc, dec) x 8 (24)
Rnd 22. BLO 24 sc
Rnd 23. (sc, dec) x 8 (16)
Rnd 24. 8 dec
Cut off the thread, tighten the opening with a needle, secure the thread and weave in the ends. Sew up the hole.
Let's crochet amigurumi dog ears
Ears
(Make 2 in brown color yarn)
Rnd 1. MR 5 sc (5)
Rnd 2. 5 inc (10)
Rnd 3. (sc, inc) X5 (15)
Rnd 4-5. 15 sc (2 rnds)
Rnd 6. (sc, dec) x5 (10)
Rnd 7-8. 10 sc (2 rnds)
Dont stuff, fold the ears and crochet 4 sc to close the opening. Sew the ears to the head on rnd 21.
We will crochet the hat and head of the amigurumi dog pattern together.
Hat
Start in the last st of rnd22 of the head
In red yarn color:
Rnd 1. FLO 24 sc (24)
Rnd 2. 24 sc
Change to white color:
Rnd 3-4. 24 sc (2 rnds).
Change to red color:
Rnd 5. 24 sc
Rnd 6. (2 sc, dec) x6 (18)
Change to white color:
Rnd 7. 18 SC
Rnd 8. (sc, dec) x6 (12)
Change to red color:
Rnd 9. 12 sc
Rnd 10. 6 dec (6)
Change to white color:
Rnd 11. 6 inc (12)
Rnd 12-13. 12 sc (2 rnds)
Rnd 14. 6 dec (6)
Cut off the thread & tighten the opening. Use a black thread to sew the eyes on rnd16 with 8 sts apart from. And sew the nose between the eyes.
Congratulations, you've completed the amigurumi christmas little dog pattern.

More Amigurumi Dog Ideas: