Hello dear Amigurumi Followers
Today we share Amigurumi Bunny Keychain Free Pattern for you. As you know we share new free amigurumi pattern every day. The main crochets are gazelle, amigurumi bear, pola, crochet panda, penguin, giraffe, llama, pig, bunny, clown, lamb, bee, crochet unicorn, amigurumi doll, fox, penguin, dinosaur, crochet elephant, hippo, monkey, crochet cat, crochet dog and more …
Todays daily new amigurumi free crochet pattern is Amigurumi Bunny Keychain.
I want to give you some informations about this amigurumi free pattern ; Bunny Keychain.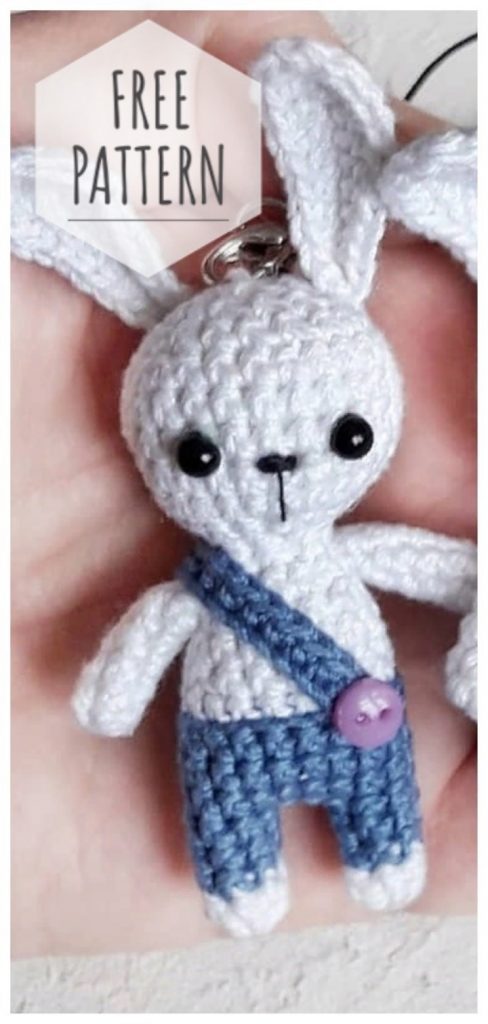 I have a yarn Alpina Lily, hook 1.5

Knit yarn of two colors – white and blue.
Do not forget to fill the bunny in the course of knitting.

Legend
KA – ring amigurumi
vp – air loop
ss – connecting column
sbn – column without nakida
psn – half column with nakidom
ssn – column with nakid
pr – increase
kill – decrease

Amigurumi Bunny Keychain Free Pattern
Handles (white) 2 parts
1. 5sbn in SV (5)
2.-6. 5sbn (5 rows) (5)
Thread trimmed, hidden. Pens do not fill.

Legs – 2 pieces.
Begin knitting with white yarn.
1. 6sbn in KA (6)
2. 6sbn (6)
Change the color to blue.
3.-4. 6sbn (2 rows) (6)
Tie one leg, trim the thread. The second leg does not cut the thread.
We do 3vp and we connect legs. Next, we knit in a circle in a clockwise direction:
1. 6sbn around the first leg, 3 sbn into the chain from vp, 6sbn around the second leg, 3 sbn into the chain from vp (18)
2.-4. 18 sat (3 rows)
Change the color to white. We cut the blue thread and hide it.
5. 18sbn – behind the rear walls of the hinges (18)
6. (4sbn, ub) * 3 (15)
7. 15 sat (15)
8. (3sbn, ub) * 3 (12)
We tie the handles, folding the top edge of the handle in half :
9. 2 sbn, 2sbn with handle, 5sbn, 2sbn with second handle, 1sbn (12)
10. (ass, sbn) * 4 (8)
Here the head begins.
11. (pr, sbn) * 4 (12)
12. (pr, sbn) * 6 (18)
13. (2sbn, pr) * 6 (24)
14.-17. 24 Sat (4 rows) (24)
18. (2sbn, slab) * 6 (18)
19. (UBN, UB) * 6 (12)
20. 6UB (6) We
tighten the hole, cut and hide the thread.

Ears (white) – 2 parts
We collect 10vp and knit, starting with the second loop from the hook:
3sbn, 3psn, 2ssn, 6ssn last, on the other side of the chain: 2ssn, 3psn, 3sbn
Leave the thread to be sewn.
Tail (white)
5sbn in spacecraft.
Leave thread for sewing.

Strap for pants.
We collect a chain from the right length. I got about 20vp.
And knit, starting with the second from the hook loop posts without crochet to the end of the chain.
We sew the strap diagonally, decorate it with a button or a bead.

Sew on the ears and tail. Embroider the spout. Sew, glue or embroider eyes.
Bunny ready.