Hello dear Amigurumi Followers
Today we share Amigurumi Black Cat Free Pattern for you. As you know we share new free amigurumi pattern every day. The main crochets are gazelle, amigurumi bear, pola, crochet panda, penguin, giraffe, llama, pig, bunny, clown, lamb, bee, crochet unicorn, amigurumi doll, fox, penguin, dinosaur, crochet elephant, hippo, monkey, crochet cat, crochet dog and more …
Todays daily new amigurumi free crochet pattern is Amigurumi Black Cat.
I want to give you some informations about this amigurumi free pattern ; Black Cat.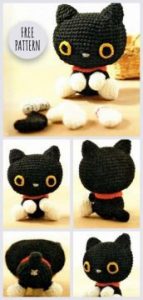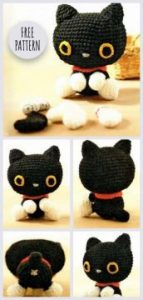 Amigurumi Crochet Abbreviations List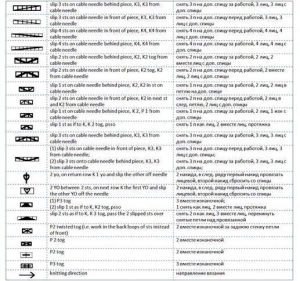 In order to make such a kitten, you need the following:
-Yarn-black, white, yellow, red and gray;
Amigurumi Black Cat Free Pattern
Filler
In the beginning we will produce the biggest detail-the head. It is knitted on the scheme of 1 yarn of black color. We dial 10 air loops and obvjazyvaem them along, not connecting, 22 columns without a throw. Next-the air loop lifting to the next row and follow the order shown on the diagram. The table next to the number of additions and Ubavlenij, and the total number of bars in each row. From the 8th to the 12th series knit the same-on the 52 column.
Diagram 2 shows how to knit the ears of a kitten with the same black yarn.
Then we perform 2 rear legs-diagram 3. Start with white yarn, knit 2 air loops and then act according to the scheme. The last 7th row knitting with black yarn.
Also knitting the front paws on the scheme 4. The principle is the same-start with white yarn, but here knitting black yarn The last 3 rows-6, 7 and 8-th.
Guided by scheme 5, knit the body of the toy in black. The 5th, 6th and 7th rows Knit 30 bars.
With the help of scheme 6 we make a tail of a kitten also black yarn.
Knit pupils black yarn-diagram 7, then knitting yellow yarn 2 strips of air loops, as shown in diagram 8 and sew them to the black part of the eye.
The diagram 9 shows how to knit the collar with red yarn.
Associating all the details of the kitten, fill them and sew, as shown in the picture. Do not forget to embroider with white yarn spout and "flower" under the tail.
The last scheme is 10. With its help knitting 5 socks different yarn-2 pure white, 1 gray, 1 black and 1 white with a red stripe (penultimate row-red). Pay attention, at their knitting we use also columns with Crochets and hardenings.
Legend:
† – Column with Crochets.
┬-Needle.
X-A column without a throw.
○-Air Loop.
Pattern is Here :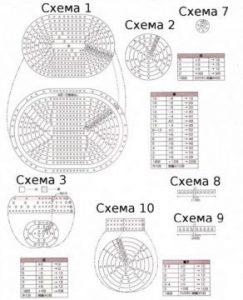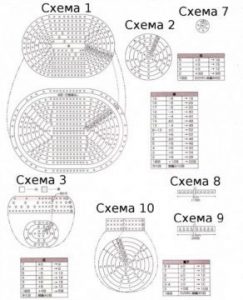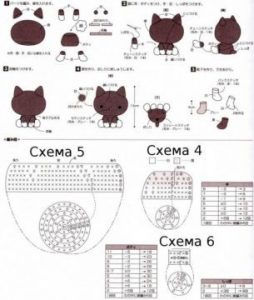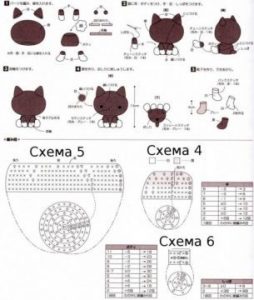 More Amigurumi Cat Ideas: