Hello dear Amigurumi Followers
Today we share Amigurumi Bat Finger Puppet Free Pattern for you. As you know we share new free amigurumi pattern every day. The main crochets are gazelle, amigurumi bear, pola, crochet panda, penguin, giraffe, llama, pig, bunny, clown, lamb, bee, crochet unicorn, amigurumi doll, fox, penguin, dinosaur, crochet elephant, hippo, monkey, crochet cat, crochet dog and more …
Todays daily new amigurumi free crochet pattern is Amigurumi Bat Finger Puppet.
I want to give you some informations about this amigurumi free pattern ; Bat Finger Puppet.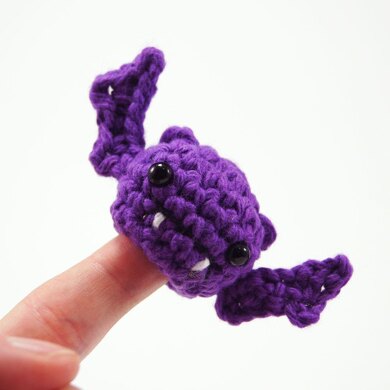 The Materials:
•The Yarn (Worsted Weight)
•Size G6/4.00mm Hook
•Plastic Saftey Bead Eyes
•Stuffing
•Needle
•Black Thread and White Yarn
Gauge : 5 Rnds and 4 sts per 1"
Finished piece is about 2" tall
Worked in the round
The Stitches:
Ch : Chain stitch
St : Stitch
Sl.st : Slip Stitch
Sc : Single Crochet
Dec/Inc : Decrease/Increase
Sc2Tog : Single Crochet 2 Together
M.p : Mini Picot
Ch 2, Working into the back loops of the 2nd ch from the hook, sl.st 1
Ears:
Ch 2
Row 1: sc in the back loop of the first ch made (1)
Cut leaving a somewhat long end to sew onto the Body.
Wings:
Ch 8
Row 1: Working in back loops of the chs, starting in the 2nd ch from the hook, sl.st, sc2tog (in next 2 chs), m.p (ch 2, sl.st into the first ch made), sc, sc2tog, m.p, sc (5 [+2 m.p])
Cut, ch and pull through, leaving a somewhat long end to sew onto the main ball.
Body:
Ch 2 or use magic loop method
Rnd 1: Work 6 sc in 2nd ch from hook or into magic loop (6)
Rnd 2: inc (sc 2) in each st around (12)
Rnd 3: [sc 2, inc] repeat 3 times (15)
Rnd 4 – 6: sc in each st (15 x 3)
Add eyes (using beads, bullion knots, or buttons) (Note: You can use nail polish or paint to make the eyes white).
Sew on the ears and wings
*Optional: You can add a little mouth using a contrasting color yarn
Rnd 7: [sc 2, invdec] repeat 3 times (12)
*Optional: Skip to Finger Puppet tutorial:
Rnd 8: dec in each st around (6)
Cut yarn, stuff, and sew closed.

More Amigurumi Finger Puppet Ideas: