Hello dear Amigurumi Followers
Today we share Amigurui Cute Big Eyed Mouse Free Pattern for you. As you know we share new free amigurumi pattern every day. The main crochets are gazelle, amigurumi bear, pola, crochet panda, penguin, giraffe, llama, pig, bunny, clown, lamb, bee, crochet unicorn, amigurumi doll, fox, penguin, dinosaur, crochet elephant, hippo, monkey, crochet cat, crochet dog and more …
Todays daily new amigurumi free crochet pattern is Amigurumi Cute Big Eyed Mouse.
I want to give you some informations about this amigurumi free pattern ; Cute Big Eyed Mouse.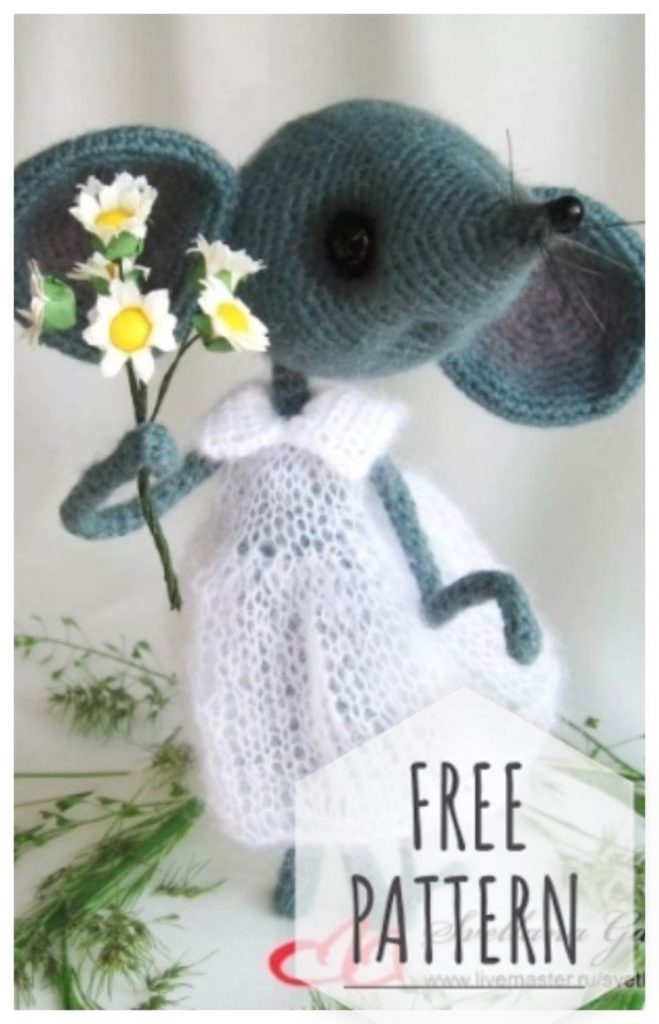 Legend: 
vp – air loop
sbn – column without nakida
appr – increase (2 columns in one loop)
kill – subtract (2 columns together)
ka – ring amigurumi SBn !
Amigurui Cute Big Eyed Mouse Free Pattern
Head.
1 row: ka 6 sbn
2 row: 6 prib (12)
3 row: (prib, 1 cbn) x 6 times (18)
4 row: 18
5 row: (1 prib, 2 sbn) x 6 times (24)
6 Row: 24
7 Row: (1 prib, 3 UBN) x 6 times (30)
8 Row: 30
9 row: (1 prib, 4 UBN) x 6 times (36)
10 row: 36
11 row: (1 prib, 5 sat) x 6 times (42)
12 row: 42
13 row: (1 app, 6 UBN) x 6 times (48)
14-24 row: 48
25 A line: (1 kilo, 6 UBN) x 6 times (42)
26 noi: (1 kilo, 5 UB) x 6 times (36)
27 order: (1 ub, 4 sbn) x 6 times (30)
We'll stop here to insert the frame and fill our heads. How to make the frame look a little lower. We fill the head evenly, we make sure that no hillocks stick out, and tight enough, but not stone). Do not try to stuff right up to the last knit row – start knitting the next one, grab the stuffing and you will have a mouse interspersed), it is better to stuff a little more after each row …
28 row: (1 killed, 3 sbn) x 6 times (24)
29 row: (1 killed, 2 UBN) x 6 times (18)
30 row: (1 UB, 1 UBN) x 6 times (12)
Here we carefully push the last batch of packing
31 row: 6 ub.
That's it, the head is ready! It turned out to be 6.5 cm in length.

But we have different yarns, and in order to avoid accidents, we will do this so that we can subtract-add)
So, if the head of the mouse turned out to be 6.5 cm, safely cut off a piece of wire 65 cm long and we are not afraid of anything))) If it's less, too. But if the head is bigger, we increase the length, because the mouse will be larger). So cut off and folded in half.
Make a loop at the end and twist it a little for the neck.
Insert a piece of stuffing into the loop.
After we tackle the muzzle on 2/3, we insert the frame (both ends of the wire) from the inside into any loop of the 23rd row, after having expanded it a little, with the same kebab skewer, for example. Stretch at a distance of 1.5-2 cm from the loop bend the wire at an angle of 90 degrees.
Turn the loop towards the nose. When stuffing, make sure that the loop remains in the middle and there is always a filler around it.
Neck:
Before you begin to knit the neck, fold the ends of the wire and wrap slightly with something (tape, tape) so as not to accidentally stumble with a small eye). We tie out of the head around the frame 6 sbn. And knit 8 rows.
Well, somehow it should look like this)
Legs. (2 pieces)
1 row: ka 6 sbn (6)
2 row: 6 pribs (12)
3-4 row: 12
5 row: 6 kill (6)
6- 18 row: 6 Arb.
Leave the tail of thread is longer – they will be sewn, and if, all of a sudden a little podlinshe frame had twisted, always a row, another can be added)
Hands (2 pieces).
1st row: 6 sc ka (6)
2-18 row: 6 sc.
also leave the tail of the thread longer.
Ears.
1 row: ka 6 sbn.
2 row: 6 prib (12)
3 row: (1 prib, 1 sbn) x 6 times (18)
4 row: (1 prib, 2 sbn) x 6 times (24)
5 row: (1 prib, 3 sbn) x 6 times (30)
6 row 🙁 1 appr, 4 sbn) x 6 times (36)
7 row 🙁 1 appr, 5 sbn) x 6 times (42)
8 row 🙁 1 appr, 6 sbn) x 6 times (48)
9 row: (1 appr, 7 sbn) x 6 times (54)
10-13 rows: 54 sbn.
14 row: (1 kill, 7 UB) X 6 (48)
15 row: (1 kill, 6 UB) X 6 (42)
16 row: (1 kill, 5 UB) X 6 (36)
17 row: (1 ass, 4 sbn) X 6 (30)
18 row: (1 slab, 3 sbn) X 6 (24)
19 row: (1 slab, 2 sbn) X 6 (18)
20 row: (1 slab, 1 sbn) X 6 (12)
21 row: 6 kill (6)

More Amigurumi Mouse Ideas: